When Paul joined SITA, his journey, through talent acquisition, hiring, and onboarding, was held entirely remotely. However, the interaction with his future colleagues and his remote onboarding journey gave him the confidence that the company culture would make for a work environment to fit his needs.
So, Paul, you joined SITA amid a global pandemic. What do you do in your new role, and what were the challenges that the pandemic brought to your recruitment?
When considering my next career move, early in 2021, the world was very much locked down due to the ongoing pandemic. I had real reservations about how I could possibly fulfill the dream of finding a new job in such artificial, virtual, and delicate circumstances.
I work alongside an incredible team of diverse talents as a Business Partner Corporate Communications, in the Geneva office. As a passionate communicator, I often say that if corporate storytelling is the vignette that frames the personality of a company, then the values and actions which orchestrate the employee experience are surely its beating heart. These are the details I had to uncover during that hiring phase.
"Culture" at work is a word used to describe the way people behave within an organization and the attitudes and beliefs that reflect those behaviors. I imagine it's not so easy to discover from behind a computer at home.
Exactly. Corporate culture is almost impossible to advertise and is even harder to master in a bubble since there's no way to engage or interact like we do when face to face. It was important for me to consider what it was like on my new team before making that jump — and that started with understanding the culture. Luckily I had some positive signals to judge by (SITA was recently awarded 24th place out of 750 multinationals in the Forbes World's Best Employers list), including first impressions via some close connections within my professional network.
And that culture came through during the recruitment process?
While I couldn't get a glance into life at the physical office during my recruitment, I could gauge how it might be by how people interacted with me. Everything was virtual; a project assignment, writing test, several rounds of interviews followed by a job offer, virtual hiring, and virtual onboarding.
Somewhere in the middle of this surreal experience, my wife and I welcomed our second child into the world. The birth was celebrated and shared with my new virtual SITA colleagues, who sent flowers — a kind gesture I remember fondly.
How would you sum up the experience?
Despite never shaking a single hand, not entering a single office, and seeing only one colleague in the flesh (Thank you, Marc, for driving 70km to hand-deliver my Laptop), I felt more connected, more warmth, and more a part of the SITA family than I could have possibly imagined.
I have lived an unforgettable employee experience, all thanks to SITA's exceptional talent acquisition, hiring and onboarding program, its incredible people, and its trademark culture — one laden with genuine empathy.
And of course, I must give a special mention to all my new colleagues who are already like family, which is a testament to their care and outstanding team spirit!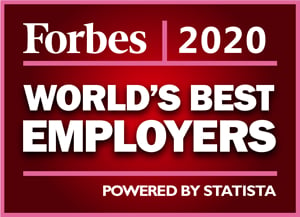 SITA is proud to have been ranked 24th out of 750 multinational companies in Forbes' 2020 list of the World's Best Employers. The independent survey asked employees to assess employers' image, economic footprint, talent development, gender equality, and social responsibility, as well as Covid-19 responses.
---
Come define the future of travel. Find out more about the career opportunities at SITA.