2021 marks a new direction for product design at SITA. We asked Swen Van Klaarbergen, Senior Product Manager, to share his story on SITA's design journey, including how the team envisions new things that excel in form and function.
What is SITA's approach to product design?
Product design at SITA is centered around a vision: the ability to easily tailor a product to meet customer demand, even after implementation. This message resonates well with our customers, especially now as they've had to adapt airport operations to meet new safety requirements brought on by the COVID-19 pandemic.
To ensure that we're designing future-proof hardware that can adapt as our customers' needs change, we've focused on driving the business value of design by bolstering cross-functional talent, working with our customers for continuous iteration, and adding a spotlight on the user experience.
With the recent iF DESIGN AWARD, we're seeing a new direction for SITA in 2021, but I imagine that getting there was something of a process?
The iF DESIGN AWARD is world-renowned. It celebrates the best designs of industrial products in the world each year, and winning an award is certainly something to celebrate.
In terms of getting there, I see our journey as a transition from engineering through to design.
Traditionally, SITA's design process was very linear and driven by engineering. The design was extremely functional: you knew where to put the components based on the reach of people. With everything in the right place, a shell body was wrapped around to form the final design.
Our design philosophy evolved in 2015 when we worked with Dutch design agency Van Berlo who came with experience in designing award-winning products for the aviation industry. Pairing the agency knowledge at the design phase, together with SITA's engineering team, meant we could forge ahead on hardware design, creating products that were not only functional — they looked great too.
Fast forward to today, and we've bolstered our in-house team, investing in software and knowledge to create photo-realistic impressions within SITA. As we look to fast-track new features to meet demand, we clearly see the benefits of working with our own engineers and design team.
The TS6 range, launched this year, is a good starting point to explain your process. How do you design something valuable to the industry?
Rather than approaching design simply as a phase, we discovered that the business value comes from making better decisions through prototyping and iterative learning.
We begin the creative process with a concept to discuss with both internal and external audiences. It might just be a picture to commence with, so no CAD software or engineering. Design flourishes best in environments that encourage iteration, and as people provide input, we start to address the engineering aspects — where should we place the sensor? Where should we put the screen?
The feedback loop has proven to be extremely valuable. In today's operating environment, airports need to ensure that they're getting the best return on any investment. The overwhelming desire from them with the TS6 was for a design that could adapt to meet their future needs. Following these rounds of feedback and iteration, we get to a factory prototype ready for end-user testing. An additional round of feedback after testing is the basis of the final design.
We've also incorporated user experience (UX) into our design process. UX design includes the entire process of acquiring and integrating the product that covers aspects of branding, design, usability, and function. It's not just the kiosk; it's the kiosk in the airport. And how it functions in its environment.
By listening to the market and considering the user experience, we took the strategic decision to design the TS6 in a variety of dimensions to be inclusive for everybody. Updating the industry way of thinking that 'one-size-fits-all' is no small task, but subtle changes like a difference in form factor can go a long way in aiding the traveler.
Any exciting new releases in the pipeline?
Yes, absolutely. First of all, it's great to see the TS6 being rolled out to airports, as seen in the recent implementation at Václav Havel Airport Prague. We're building on the momentum of the TS6, working with the design team to continue to drive improvements in self-service hardware. Watch this space for future updates.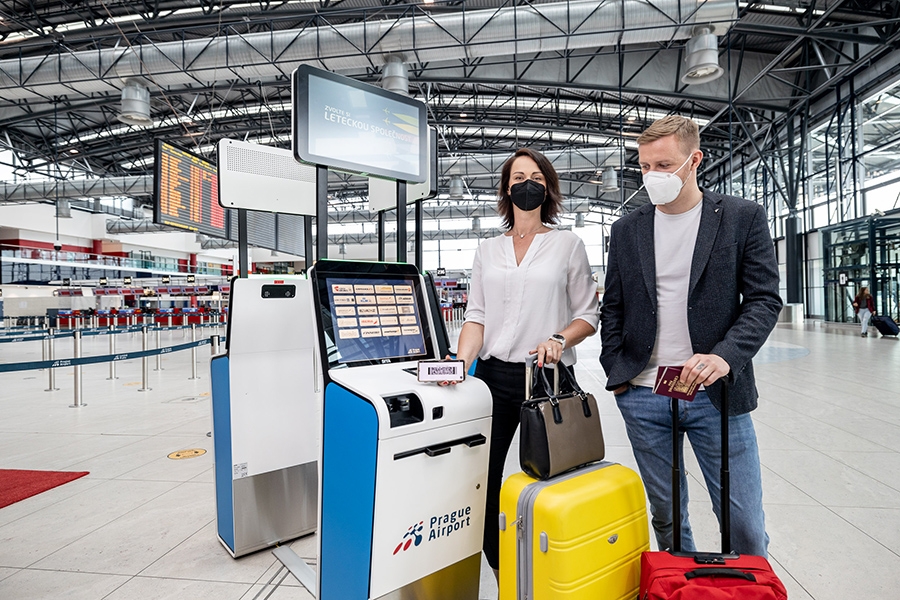 What is the future of design at SITA?
I hope we continue to win awards! The IF design award pays tribute to SITA's new approach and highlights how good design can enhance the lives of passengers. I expect to see a continued focus on the user experience of our products. The trend from engineering to design to user-focused design will continue to gain pace.
Besides that, our designers need to be sensitive to the needs of our warming planet, thinking about sustainability. As a company, SITA is committed to delivering products that support sustainable aviation, and we design all hardware to utilize sustainable materials. Sustainable thinking opens the way for innovation.
I'm excited to see our products pushing the boundaries on what's possible to tackle sustainability issues, and I'd like to continue that trend, investigating what can be done with hardware when it reaches the end of its life. Today's TS6 kiosks stay up to date for 15 years through their modularity. I see an incredible opportunity to look beyond that, developing refurbished hardware that we can upgrade to meet the next set of customer demands.