Updates at arrivals are an added benefit of baggage tracking
While the adoption of technology has improved passenger satisfaction across the airport journey, the biggest jump by far over the past year was at baggage collection. SITA's 2019 Passenger IT Insights shows that passengers are demanding more mobile services in relation to their baggage and where these are available, satisfaction levels have surged.
SITA's research shows that 26% of passengers in 2018 used their mobile device to receive status updates on their baggage at arrival, up from 14% in 2017. At the same time, there is a growing demand from passengers to receive more baggage information via their mobile devices. A majority of passengers said they would definitely use mobile notifications providing information on baggage at arrival while a similar proportion said they would use their mobiles to track their bags or to report mishandled baggage.
These mobile services have dramatically improved passenger satisfaction levels. In 2018, those travelers who used their mobile to receive updates at baggage collection were 8.6% more satisfied than those who relied on traditional voice announcements or flight information screens for information. In fact, those who relied on traditional voice or screen announcements for updates ranked baggage collection as one of the lowest points in their journey while those receiving mobile updates perceived this step as one where they were most satisfied.
2018 passenger satisfaction rate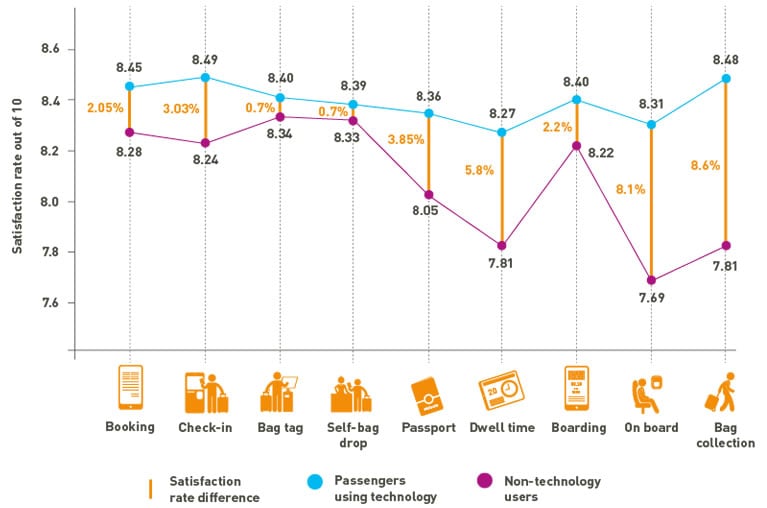 2019 Passenger IT Insights © SITA
Peter Drummond, Director of Baggage at SITA, said: "Today airports and airlines are increasingly tracking bags at key points across their journey. While this tracking data is primarily used to provide better oversight of baggage and reduce mishandling, many operators are providing some, or all, of this information to passengers as a mobile service. This is being done either through the airline or airport mobile app or other notifications such as SMS.
"As we have seen from the survey, this service has a tremendously positive impact on passengers' airport experience. It provides a significant positive boost to the way they perceive their travel, while reducing anxiety around baggage. It is a strong endorsement of the benefits of baggage tracking in addition to the improvements in mishandling rates we have already seen where tracking solutions are in place," said Drummond. Today, airlines using SITA's technology to track bags are enjoying a significant reduction in the rates of mishandling.
A potential force driving adoption of mobile baggage services is the growing number of checked bags in 2018. Drummond added: "More than 4.3 billion bags were checked in by passengers globally. This is an average of 1.2 bags per person, up from 1.08 bags per passenger in 2017. The rise in checked baggage is likely to drive demand for more services as passengers want to know where their bags are at all times. Those airports that track bags across the journey are well placed to offer this service."
The key findings of SITA's report are based on a survey of passengers from 19 countries across the Americas, Asia, Europe, Middle East and Africa, representing over 70% of global passenger traffic. This is the 13th edition of the SITA Passenger IT Insights.
Like this post?
Get more like it as soon as they are published.
Subscribe