Passenger numbers reached an all-time high of more than four billion last year, resulting in a record 4.27 billion managed bags. Even with this growth, baggage mishandling rates are plateauing due to ongoing investment in smart technologies, automation and processes, according to SITA's Baggage IT Insights 2019 report.
As we heard when the report was announced recently, total mishandled bags have fallen 47% from 46.9 million back in 2007 to 24.8 million in 2018. As a result, the annual bill footed by the industry has dropped 43% to $2.4 billion – against $4.22 billion in 2007.
Yet mishandling still happens and the reasons for it stay the same, says the Insights report. Delayed bags accounted for over three quarters of mishandling last year. Of this, 9 million of the 19 million delayed bags were due to transferring baggage. This is no surprise to us at SITA – as transfers are complex with multiple airports and airlines involved.
Tracking is driving down the mishandling rate
But bag tracking promises a better future for passengers. Many of the improvements we see to date have been partly driven by IATA's Resolution 753 which came into effect in June last year.
The resolution has undoubtedly provided an incentive for airports to invest in technology to reduce lost or delayed baggage. The SITA 2019 Baggage IT Insights report findings show that implementation of bag tracking, at loading especially, is greatly helping minimize baggage mishandling. Loading is one of the easiest stages to introduce tracking and is one of the four tracking points crucial to Resolution 753 compliance.
Machine Learning analysis of millions of records
We analyzed 10 million records in our BagJourney service using machine learning tools. We found that bag tracking implementation at loading is helping airlines improve their baggage mishandling rate by between 38% where good processes are already in place and by up to 66% where no tracking had been done previously.
Many airports provide common use baggage reconciliation systems (BRS) and we'd advise airlines to use them where available rather than introduce their own. These systems can reinforce airlines' baggage processes and improve the tracking capability of each piece of baggage.
Take Etihad Airways, for example. The airline reported a 33% improvement in mishandled baggage compared to 2017. Its baggage management system tracks baggage across its network and links to the BRS at originating stations, as well as a baggage handling system in Abu Dhabi. Etihad's baggage management system also helps track global compliance and hub planning for transfer prioritization.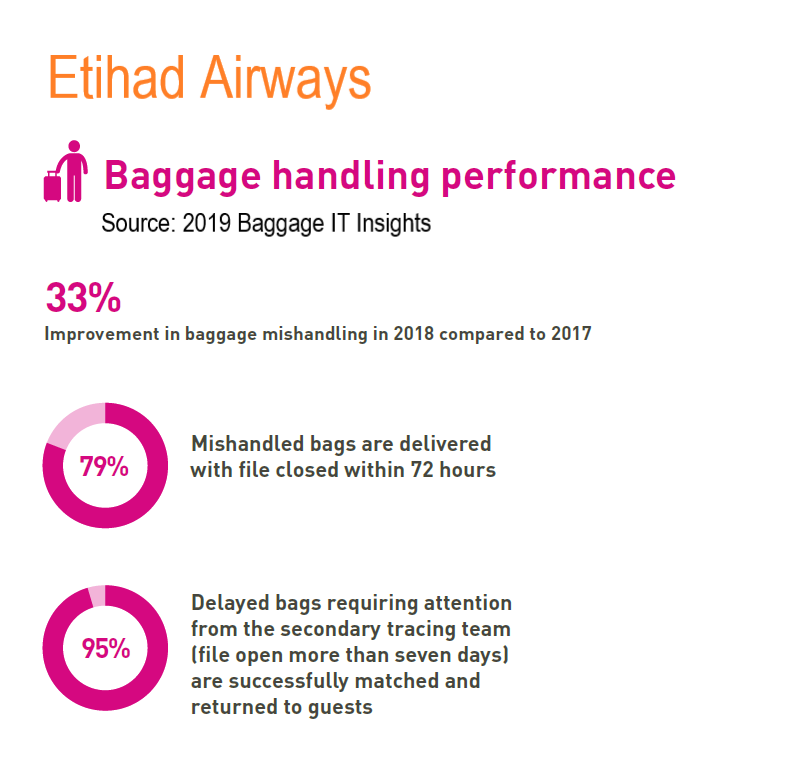 Baggage tracking technology enhances customer satisfaction
While Resolution 753 aims to advance airline and airport operations, it also opens up an opportunity for airlines to enhance passenger satisfaction by providing baggage updates to mobile devices.
In SITA's 2019 Passenger IT Insights report we found that baggage claim still remains a pinch point in the passenger journey. It causes considerable stress and frustration. Yet one quarter of passengers who received baggage notifications on their mobile devices reported an 8.6% improvement in satisfaction against non-tech passengers, who had to rely on public audio announcements and flight information displays.
Interestingly, three out of the top four mobile services on passengers' wish lists were linked to tracking their baggage. Some 65% said they'd report mishandled bags via their mobile devices, 64% want to track their baggage via an app, and 63% said they'd like a collection notification of their bags on arrival.
Real demand for real-time services
This highlights the real demand for airlines and airports to provide real-time, personalized services to mobile devices when it comes to passenger bag tracking.
One European airline recently opted to integrate its baggage tracking data provided by SITA into its mobile app. Now half of its 16 million passengers receive baggage notifications via the mobile app. It's helping to allay the anxiety passengers have about their baggage in transit.
Passenger demand for bag notifications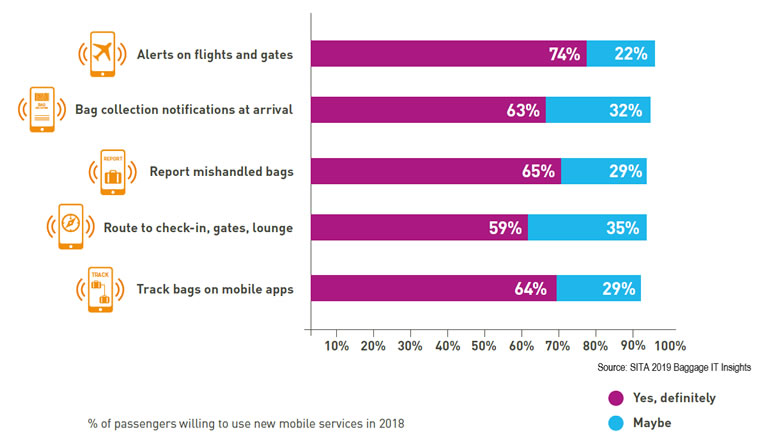 As the SITA Baggage IT Insights 2019 research shows, airlines are actively pursuing baggage tracking capabilities for the future. That includes testing tracking using radio frequency identification (RFID) technology.
There's no doubt from our research that real-time bag tracking information via mobile apps is the way to go. It's now on the self-service investment agenda for the vast majority of airlines over the next three years, including bag location status updates and missing bag communications to passengers.
A more transparent future
So technology is a critical enabler to transforming baggage handling. With the number of passengers continuing to increase year on year, smart end-to-end baggage tracking is clearly the future – enhancing operational efficiencies, controlling costs and, ultimately, improving the passenger journey.
Download the Baggage IT Insights report
Download the Passenger IT Insights report
Like this post?
Get more like it as soon as they are published.
Subscribe