The COVID-19 pandemic has created an entirely new operating environment for the air transport industry. Faced with huge economic pressures, we're seeing a major focus on changing the way the industry operates and on the need to restore passenger confidence in air travel.
Alongside that, for the industry to restart, it must add 'health' as a primary requirement for air travel. To return to the skies, it's critical that airlines and airports urgently address the need for a safe journey.
Passenger concerns over health won't go away in a few months, and the air transport industry will of course take time to recover. But a rethink of operations and a remodeling of processes will help to restore passenger trust, while also putting into place new digital technologies on which to build the airport experience of the future.
Cloud technologies for mobile enablement and rapid scalability
Mobile enablement and self-service technology will play a huge part. At SITA, we've long believed that mobile-enabled passenger processing is the way forward. It makes sense that passenger trust in air travel will be built through greater use of mobile, low-touch and touchless self-service technologies, to reduce human interaction and contact with physical infrastructure.
Cloud technologies underpin mobile and low-touch air travel, allowing quick, efficient and cost-effective deployment of touchless mobile services across the journey. On top of that, airlines and airports will be able to respond rapidly to developing events and demand changes, thanks to the scalability and flexibility that the cloud provides.
Cloud-based mobile services – 'pivotal' for future air travel
As we take to the skies again, eliminating passenger contact with any surface wherever possible is essential. We see cloud-based mobile services as pivotal, for both passengers and staff, making the future travel experience safer, easier and more efficient. So it's important that the smart device becomes the passenger's virtual travel manager, at each step of the way.
Passengers will increasingly interact with the journey's current and future self-service touchpoints by using their mobile devices, from check-in to passenger verification and bag pick-up. Real-time information on passengers' mobile screens will continually update them on their journey, helping to maintain smooth passenger flow, avoiding crowds and preventing long queues.
Over 460 airports now cloud and mobile-enabled
The air transport industry needs to move quickly to embrace passenger and workforce mobility, with apps accessible from anywhere. For that reason, we've prioritized and accelerated the rollout of a new generation cloud-based, common-use platform.
Called SITA Flex, it gives passengers the ability to use their smart devices across the journey's steps. We're cloud-enabling every one of SITA's 460-plus common-use airports around the world, so that organizations can fully adopt cloud, or take a phased hybrid approach, which we're unique in providing. This, when combined with our leading biometric-enabled ID solutions, delivers a fully mobile, self-service, end-to-end touchless travel experience.
The smart device: your remote control for travel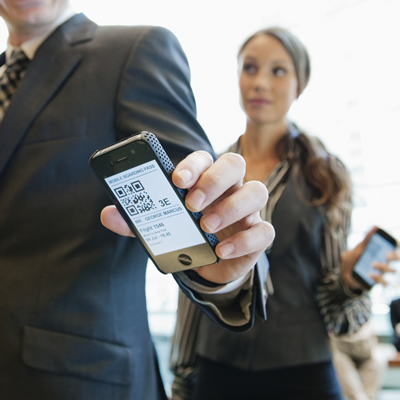 Mobile-enablement is an important and relatively quick win for the air transport industry, but it's also a long-term solution. It initiates the momentum for passengers to start operating more and more self-service process points using their smart devices.
Whether on or off-airport – a hotel or mall for instance – passengers will be able to interact with shared infrastructure without needing to touch physical equipment, such as kiosks or bag drop screens. The potential spans the entire passenger journey, including boarding pass and bag-tag printers at the airport or in the hotel, boarding gates, security screening, immigration and other areas.
Likewise, across the airport, mobile-enabled staff will be able to use smart devices and apps to share information for terminal management, for example. This increases agility during both normal and disrupted operations, while still taking advantage of existing shared physical devices.
At San Francisco International Airport (SFO), airlines now have the opportunity to offer passengers the ability to use their own mobile devices to interact with the airline applications, without the need to touch screens on the airport's hardware.
SFO was the pioneer in implementing SITA's cloud solution, where it's been deployed and operated for over a year. The airport is now upgrading to introduce more touchless services.
'Apps-to-go', to kick start mobile low-touch air travel
Any next-generation cloud platform must allow stakeholders across airports to develop their own mobile apps based on open Application Programming Interfaces (APIs). While this is of course possible using our open APIs, we realize – and indeed our airport and airline customers have told us – that right now the industry doesn't have development time on its side.
So we're developing a range of pre-packaged apps, including touchless bag drop, bag tagging, excess baggage weighing and a linked contactless payment service. These can be directly integrated into airline and airport systems, with no need to install more hardware and no need for app certification.
Ushering in the touchless future – fast
We're working at pace to further decrease the 'touch' aspect of air travel and we've accelerated our roadmap. Take facial recognition, for instance. Right now passengers have their photo taken in a kiosk and then touch their passport on a system for validation. By year-end, a contactless validation app will let them scan their passport against a photograph taken on their mobile phone.
Another development underway will provide mobile capabilities off-airport, to help manage social distancing, improve passenger flow and enhance the touchless experience. With this service, passengers can confirm their details and print boarding cards and luggage tags in a hotel, for example, to ease airport congestion.
Passengers will just tap their mobile devices on a screen at the off-airport location to identify themselves. Most airlines already offer mobile boarding passes, but it will be a while before we have virtual baggage tags. So this is an essential mobile service to get air travel moving forward.
Taking steps now, on the path to a safe low-touch journey
While the return to air travel will be cautious, mobile enablement is a quick way to help rebuild passenger trust on the path to an innovative, low-touch and safe journey. But equally, it's an important step towards the seamless, digitally-enabled passenger journey of the future.
For more
Like this post?
Get more like it as soon as they are published.
Subscribe