The more I travel around the globe, the more I see technology-enabled passengers enjoying better control over their journeys. SITA research shows that technology and automation leaves passengers with a greater feeling of satisfaction as they travel.
Developments in artificial Intelligence (AI), biometrics, blockchain, machine learning and Virtual Reality (VR) are gathering momentum. It's clear that every one of these emerging technologies is set to transform the way people travel.
In my opinion, the air transport industry is fast approaching a turning point, which will see the passenger experience enter a whole new era driven by technological change.
The ubiquity of digital technology will be fundamental to this change. It's common nowadays to see travelers inextricably linked to their devices, whether that's in the airport or onboard the plane, as they traverse each step of the journey.
Automation makes for a happier journey
In fact, the number of passengers carrying a digital device hit 96% in 2018, according to our research, which consistently shows a correlation between technology and passenger satisfaction, from the start to the finish of the journey.
SITA's Passenger IT Insights 2019 survey further reinforces the positive impact of technology on passenger satisfaction. Quite simply, the more steps that are automated, the higher the rate of passenger satisfaction.
2018 passenger satisfaction rate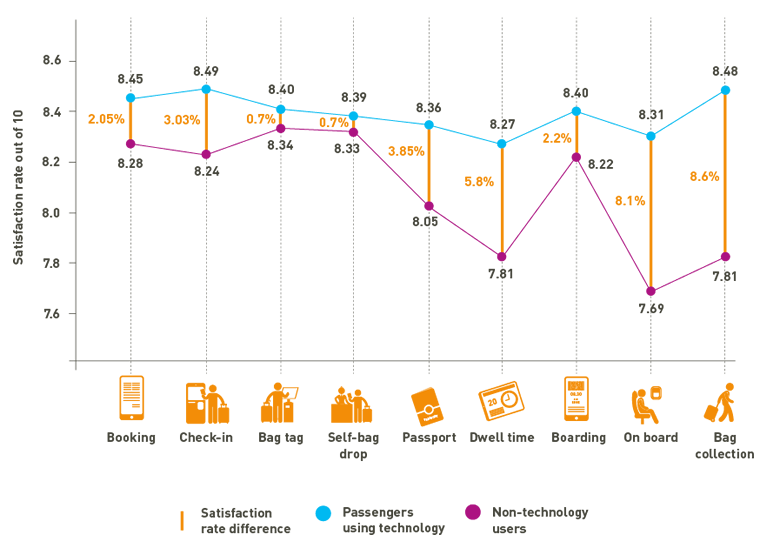 2019 Passenger IT Insights © SITA 2019
And we've now found that once passengers are converted from person-to-person to automated touch points, they don't want to go back. This is opening up exciting opportunities for airports and airlines.
On my own travels, I can see that many airlines and airports are introducing more and more technology, and not only to automate the passenger journey. There is also the focus on technology for proactive assistance, such as wayfinding kiosks, virtual assistants and Bots.
Passengers are now so comfortable with technology that they use it instead of interacting with people. Our research confirms the point. Over the years, booking, check-in and bag drop have increasingly become automated, with passenger adoption high.
Now we are seeing that the introduction of automated passport controls, in collaboration with government and border agencies, is also increasing passenger satisfaction and, where available, has high adoption rates. Our research shows that usage of automated e-gates or kiosks for passport control has more than doubled from 21% in 2017 to 44% today.
Passenger technology adoption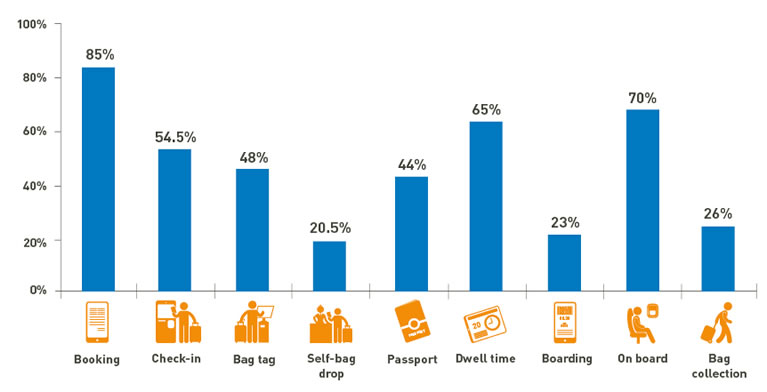 2019 Passenger IT Insights © SITA 2019
Automated gates used at boarding are not just a success in terms of passenger satisfaction. They are good for the industry too. Not only do they speed up the processing of passengers, but they also support more efficient operations and faster turnarounds.
Technology users' satisfaction rate: 8.36 out of 10
So by smoothing out processes and journey flows, making interactions less cumbersome, and speeding up processing times, technology increases passenger satisfaction rates at every point where it is used. In my mind, that translates into greater customer loyalty for airlines and airports.
At passport control, for example, passengers are happier when using self-scanning gates to verify their ID. At automated boarding gates, passengers are also more satisfied when scanning their own boarding documents. In general, we find technology users have a satisfaction rate of 8.36 out of 10.
And the news is good for those passengers, roughly just over a quarter, who can currently receive mobile baggage status updates via their mobile on arrival. Their satisfaction rate is 8.6% higher than those relying on public service announcements or flight information displays.
Eager for more
Passengers are also keen to adopt advanced technology services. Take biometrics. When made available, 80% of passengers chose to opt-in. Travelers who use biometric gates report a 5% higher satisfaction than those who've had their ID checked by a human agent.
A question of availability
That point about availability is, of course, critical. Passengers can only engage with technology-based services when they're on offer. The big challenge for airports and airlines is to more rapidly deploy the technologies that passengers are demanding to deliver on their digital travel expectations.
Mobile ID management is one area of opportunity, for example. Our survey says that 59% of passengers would be 'very willing' to use mobile devices for ID verification along their journey, with 33% saying they're open to the idea.
In addition, passengers are demanding more mobile services around baggage – not surprising, given their attachment to it. According to our survey, 95% would like bag collection notifications sent to their device on arrival, 94% said they would like the facility to report mishandled bags via their mobile, and 93% want to be able to track their luggage via an app.
Happier future travels!
So there's no doubt that technology is playing a greater role in creating a streamlined, autonomous and seamless journey. It's obvious from my own travel experiences and it's clear from SITA's research. Technology will enable the air transport industry to better manage growing complexity and swelling passenger numbers.
At the same time, technology of the future will increasingly eliminate friction at every step of the journey, empowering passengers to fulfill their needs at their own pace, with peace of mind and with minimum assistance. Ultimately, that means happier passengers every step along the way.
Download the Passenger IT Insights report
Like this post?
Get more like it as soon as they are published.
Subscribe