It would be an understatement to say that the COVID-19 pandemic has radically shifted priorities for airlines, airports and governments.
The industry realized early on that passengers want reassurance about the safety of air travel, which explains the focus on health measures, such as distancing, hygiene and sanitation, and passenger health control.
Efforts ramped up quickly, thrusting technology into a bright spotlight, particularly with mobile and biometrics being used to deliver a contactless passenger journey.
I'm proud to say that SITA understands these requirements and has done so from the onset of the pandemic. We've helped dozens of airports and airlines deliver solutions allowing them to safely resume flights and get our industry moving again.
We're continuing to work with customers to introduce technologies and platforms that underpin contactless and low-touch next generation passenger processing, along with digital borders. Indeed, we began this work long before the pandemic, creating the passenger journey of the future, making it safer and frictionless.
Healthy, contactless and low-touch travel in action – built on existing platforms
Beijing Capital International Airport (BCIA) is a great example of how the journey is changing forever. BCIA's use of identity management and mobile technologies is seamlessly assisting passengers through multiple checkpoints, including manual check-in, self-service check-in, bag drop, restricted access, security, duty free and boarding.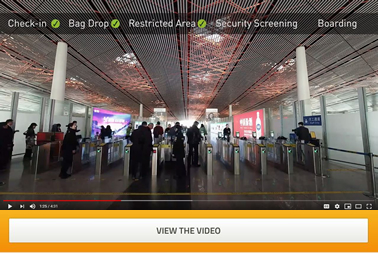 Passengers easily and quickly enroll their facial biometric and journey details, in advance, via their mobile device or at any touchpoint on arrival at the airport. They receive fast, touchless identity verification, and if suitable cross border arrangements exist, this will be the same at all airports on the passenger journey.
The scale at BCIA is impressive, with over 600 biometric checkpoints, including 250 lanes of automatic gates, 80 kiosks, and 30 self-bag drop stations which will process passengers from international flights. The airport can process over 400 passengers boarding an Airbus A380 in fewer than 20 minutes.
'Your face is your boarding pass'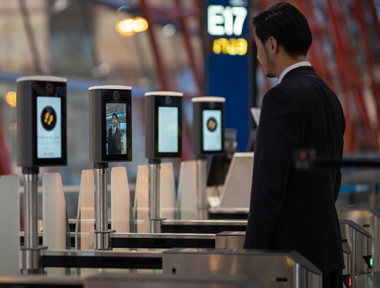 BCIA is realizing this near walk-through airport experience by using SITA's biometrics self-service and mobile-enabled platform, SITA Smart Path, at checkpoints across the journey. Sometimes referred to as 'Your face is your boarding pass', these touchless solutions can be deployed at SITA's 460-plus common-use airports.
They leverage existing infrastructure investment to reduce implementation costs. We're now ensuring 'mask awareness' and integrating temperature sensing into the touchpoint workflow at kiosks, bag drops and face pods.
SITA's Smart Path is in use or has been trialed at airports across the world, including Hamad International (Qatar); Muscat (Oman); Orlando and Miami in the USA, Athens (Greece) in Europe, and several others.
'Mobile as your remote control for travel'
Of course, mobile devices feature prominently in the contactless passenger experience. The combination of a cloud platform, mobile self-service and automated solutions, both on-site and off-site, really can create the seamless passenger flow that the industry needs.
The approach will move us from the traditional queue heavy passenger journey to the digital passenger journey, with 'mobile as your remote control for travel', where mobile devices can be used at touchless kiosks and gates, bag tagging, personal guidance, digital boarding pass stamps at security screening, and more.
Making travel mobile-ready
At Los Angeles Airport, SITA's self-bag drop units can now be controlled from their mobiles. At San Francisco International Airport, the deployment of the cloud and mobile platform SITA Flex offers airlines the opportunity to create a mobile travel experience. The airport is now upgrading to introduce more touchless services.
Meanwhile, Mumbai's Chhatrapati Shivaji Maharaj International Airport introduced nearly 50 of SITA's mobile-enabled kiosks, to deliver a contactless way for passengers to check-in for their flight. The approach greatly reduces the need to touch surfaces and meets the Ministry of Civil Aviation's guidelines to reduce the risk of spreading COVID-19 infections.
And most recently we've helped Dallas Fort Worth International to trial SITA's self-service bag-drop pilot, the first in the US to employ the Traveler Verification System, the US Customs & Border Patrol's biometric entry-exit system.
Let's start the journey sooner! The evolving off-airport experience …
With all eyes on safe travel, it's best if passengers arrive at the airport checked and 'ready to fly'. That means moving processes off-airport – such as travel authorization, bag-drop, mobile check in and arrival at the terminal.
Our new Health ETA (Electronic Travel Authorization) is one such example. Using biometrically-enabled, secure mobile technology, governments can check digital health declarations before trips – minimizing hassle and queuing at airports. SITA's mobile-enabled landing card solutions now include these passenger health declarations.
To make passenger journeys smoother and safer, airlines and airports need industry standard passenger processing at any location off-airport. This enables the digital checking of passenger documentation as part of contactless approval to enter the terminal, to carry out health checks, to allow bag check-in, and more. SITA's cloud-based platform (SITA Flex) provides this next generation infrastructure.
Safer travel at arrival and beyond
The safer travel experience can continue at the inbound border, bag collection, lost bag reporting and onward travel. Health-aware border checks on arrival are linked to pre-checked identity, journey and health information, with quick and touchless passenger processing once again using biometric-enabled gates or traditional border checkpoints.
On the baggage front, to help avoid clustering in the baggage arrivals hall, safety can be assured through personal notifications to passengers advising bag arrival location and times. Passengers can now use mobile lost bag reporting to check progress on lost bags and connect to the airline.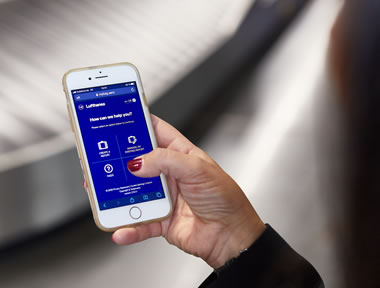 The Lufthansa Group recently launched a completely contactless way for passengers to report delayed baggage from their mobile devices, avoiding long queues at busy baggage service counters or offices – using SITA's lost baggage reporting app WorldTracer® Self Service.
The service helps the airline group meet new COVID-19 hygiene requirements but has also proved to be popular with passengers. SITA's initial trials of the service showed that two-thirds of passengers opted to use WorldTracer® Self Service instead of visiting a baggage counter.
Recommended to build passenger confidence
The technology and global platforms SITA has in place are the foundations for frictionless journeys of the future, aligned with IATA, ACI, ICAO and WHO safety recommendations.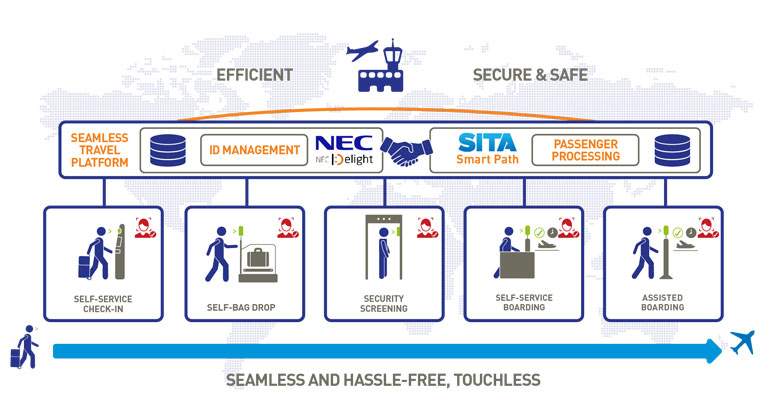 We continue to evolve next generation passenger processing and digital borders. In SITA's global partnership with NEC, for example, we're jointly developing further solutions to enable a secure walk-through travel experience at airports.
And it doesn't stop there. We're fast-tracking more developments in the areas of off-airport services, Application Programming Interfaces (APIs) to better exploit available data, and more, to support all airport touchpoints.
There's no denying that it's a devastating time for travel. But the ability to provide passengers with next generation processing will help build confidence as we recover and move towards better years for our industry.
For more
Like this post?
Get more like it as soon as they are published.
Subscribe