There's no doubt that passengers are emotionally attached to their baggage. For some of us, there's always that lurking worry that we might take off on one flight and our baggage takes off on another. Yet this doesn't seem to be holding back passengers when it comes to self-service bag drop.
IATA's 2018 Global Passenger Survey reveals that 70% of passengers said they want self-service baggage check-in. Only one in three travelers said they prefer an agent to tag their bag.
Seamless passenger journey
More automation, less stress

A smooth and swift passenger process
Check-in has gone mobile, with passengers now preferring to check in remotely or by kiosk to avoid counter queues. So it follows that passengers want to take the fastest route possible to check in their baggage and bypass any lines on the next step of their journey.
Bag-drop is the next contender in streamlining processes using automation and technology. Bag-drop technologies are proven in their ability to shorten queues, reduce costs and improve customer satisfaction.
SITA's own Scan&Fly bag-drop, for example, enables passengers to easily check in luggage in as few as 15 seconds. This means more terminal capacity, reduced queues and lower operational costs.
Let's not forget our focus on passenger satisfaction
It's little surprise that assisted bag-drop implementation has grown to 72% in 12 months and unassisted bag-drop to 45%, according to SITA's Air Transport Insights 2018 report. But as we continue to drive the trend, let's not forget our focus on passenger satisfaction: if we as an industry want to ramp up bag-drop adoption, either self-service or assisted, we must make sure that for the passenger, the process is both simple and fast.
Percent of airlines with implemented or planned initiatives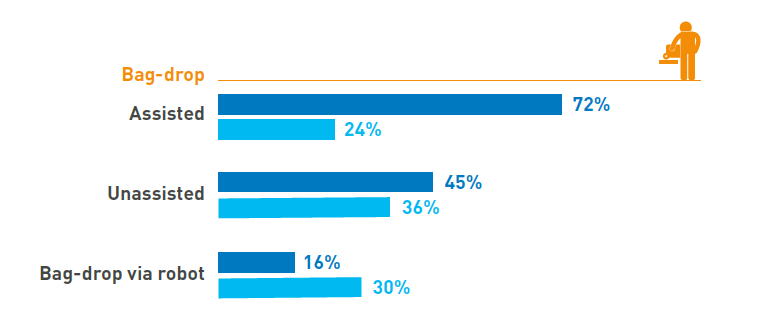 Airport layout and staff encouragement are key to the mass adoption of bag-drop. Bag-drop areas must look easy and inviting, with smiling staff ready to lend a helping hand to those who may be apprehensive or find technology bewildering. Of course, each airport is different, which is why SITA stresses the importance of carrying out individual assessments initially for bag-drop solutions. This ensures that solutions are optimized for the space, fulfill customer requirements and support the air travel industry's aspiration to achieve the seamless journey.
Though it will take several years before we see the end of manual bag check-in as an option, eventually, travelers will see bag-drop as the norm.
Make way for the bag drop zone
Of course, as with any new technology there are challenges around how bag-drop slots into traditional processes. Excessive baggage and how passengers pay any additional charges due, for example, has been cited as an issue. But this hurdle can now be overcome easily with a common use kiosk with a built-in payment terminal where passengers can pay any excess due with a credit card.
Nor are large or odd-shaped bags a problem. Bag drops can be equipped with sensors to identify objects such as Skis, buggies and golf clubs, for example, these can still be tagged at the bag-drop and then passengers referred to an alternative baggage belt to drop off the baggage.
The concept that 10 traditional counters can be replaced by three agents and six bag-drop units has left airport counter staff concerned about their jobs. Soft skills, however, are invaluable in the process. As I said earlier, agents are needed to help people use the technology and counter staff can be seen in more of a hosting role, contributing to greater customer satisfaction.
Passengers using bag-drop will soon be recognized
Another advance on the way will be a relief to frequent travelers in particular. Those who regularly use the same airline often become frustrated when asked the same questions every time about their identity. But all that's going to stop, as work in this area begins to come to fruition. It won't be too long before systems will recognize passengers, making the bag-drop process far shorter and easier than ever.
SITA has designed its BagDrop portfolio to make way for the implementation of identity management across the entire departure process. By integrating passport identification and biometric recognition at each bag drop point, airlines and airports can speed up check in, free-up staff to better engage with customers and importantly, make security more robust.
The proof is in the experiences
Several airlines have already adopted bag-drop solutions from SITA, including Finnair, Brussels Airport and Air Asia (the latter having reduced the wait for check-in by 40%).
Consider also the experience of Incheon International Airport, the largest airport in South Korea. It has adopted SITA's modular Drop&Fly, which replaces traditional check-in counters and enables passengers to check in their own baggage quickly and securely. The move is in preparation for the 100 million passengers it is projecting by 2030. The system provides live status and notification on all bag drop units for ground agents alongside real-time statistics to analyze airport trends.
So the trend to introduce self-service technology at this next step of the journey is well underway. Bag-drop is fast becoming automated with SITA predicting that unassisted bag-drop will be implemented by the majority of airlines by 2021. There's no doubt that bag-drop can now be considered as another step towards effective, secure and smarter baggage handling and another step towards the seamless passenger journey.
For more
Like this post?
Get more like it as soon as they are published.
Subscribe