Framing the foundation of the Urban Air Mobility ecosystem with new solutions for vertiport and eVTOL manufacturers
We partner with eVTOL market players to design and launch new solutions for the entire industry, leveraging our existing capabilities and expertise as the world's leading air transport communications and information technology specialist.
SITA is the air transport industry's IT provider, delivering solutions for airlines, airports, aircraft and governments. Our technology powers more seamless, safe and sustainable air travel.
With around 2,500 customers, SITA's solutions drive operational efficiencies at more than 1,000 airports while delivering the promise of the connected aircraft to customers of 18,000 aircraft globally.
Our current mission is to support the development of Urban Air Mobility with new partnerships and collaboration. We believe that SITA's expertise and knowledge can help to build the new ecosystem from the ground up. As such, our dedicated agile multi-disciplinary team is working closely with the leading:
vertiport manufacturers
eVTOL manufacturers
helicopter and aircraft operators
lessors
ANSP and U-space services
cabin and cockpit communication providers
Together we are set to define, co-create and deploy innovative products based on our partners' operation requirements.
In 2021, SITA became a certified CarbonNeutral® company and we believe that together we can build a better future.


Contributing to your ecosystem with our solutions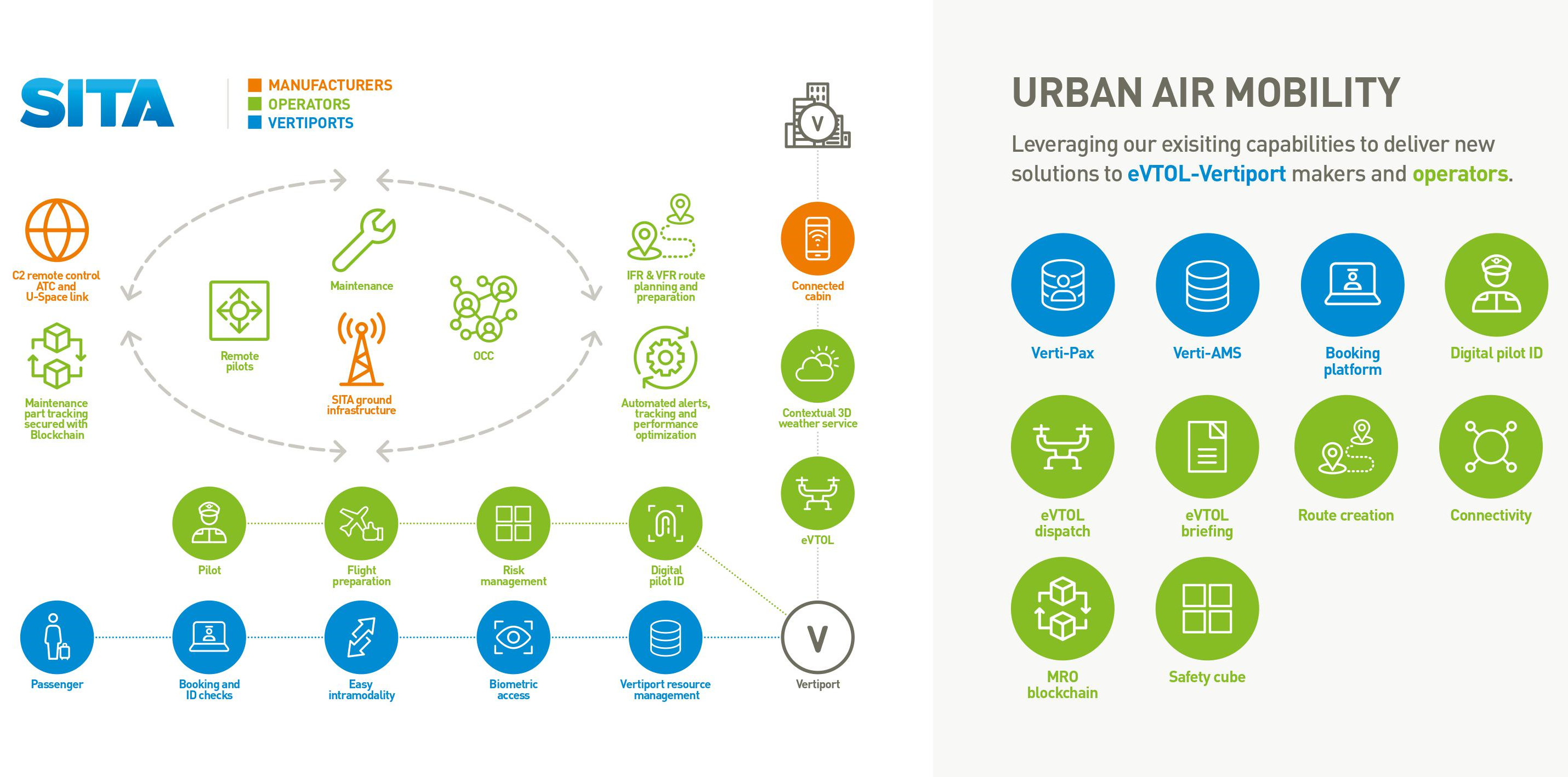 Vertiport manufacturers
As vertiport manufacturers and operators are looking for construction sites, we can bring new technology onsite for passenger processing and the management of all the vertiport resources.
eVTOL manufacturers
As manufacturers focus on certification and weight management, we can help deliver critical connectivity and develop digital solutions for a better flight efficiency with electrical or hybrid aircraft.
eVTOL operators
As Urban Air Mobility operators will be different from conventional airlines, we can help develop customized tools to support pilot flight preparation, fleet monitorization, risk management, and maintenance part tracking.