SITA adapted to support customers through the COVID-19 crisis. Learn how Ricardo and his team shifted the focus of borders towards ensuring the safety and health of passengers.
I've been working in the air transport industry for over 15 years. Throughout the COVID-19 pandemic, I have seen governments take unprecedented steps to ensure the safety and security of their borders and the traveling public.
One way in which we at SITA are supporting our customers during this period is to detect and identify passengers who could potentially pose health risks for a country.
Border solutions to ensure safe and secure passenger flow during COVID-19
On March 11, I was invited to join an online group consisting of airport executives. This was urgent. They wanted to discuss how we could use a SITA solution to monitor potential cases of COVID-19 during this global crisis.
This South American airport has been using SITA's border solutions to ensure the safe and secure passenger flow in and out of the country since 2018. A few weeks ago, the focus dramatically shifted towards ensuring the safety and health of passengers by limiting the global spread of COVID-19 and helping airports identify at-risk passengers.
Together with the airport's management, a crisis plan was drawn up to monitor passengers traveling from areas classified as a risk by the World Health Organization (WHO). The initial step would be to identify passengers arriving from these areas would then be asked to self-isolate at home for 14 days to prevent the spread of the Coronavirus.
Working side by side with the airport and quickly understanding their exact needs, we could train the airport to set up rules in the system to highlight countries that were identified as high risk. This required extreme flexibility, given the daily updates and advice being issued by the WHO.
Evolving border processes to facilitate safer travel
However, this was just the start. We have continued to explore how the airport can further prepare to contain the pandemic.
For example, using SITA technology, if a passenger happened to test positive for COVID-19, the system could identify the travelers who were sitting in the rows around that person during the flight. This would help identify at-risk passengers and specific health recommendations, and adequate protocols could be applied to those passengers as well.
Staying close to our customers in times of crisis
By staying close to our customers we can work together, give shape to our specific offerings, and make sure that borders are safe and secure in times of crisis.
Working with this airport, I hope SITA was able to play a small, but important role, in keeping passengers safe during these turbulent times.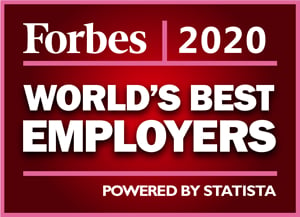 SITA is proud to have been ranked 24th out of 750 multinational companies in Forbes' 2020 list of the World's Best Employers. The independent survey asked employees to assess employers' image, economic footprint, talent development, gender equality, and social responsibility, as well as Covid-19 responses.