We are all used to dealing with countries wanting to protect their borders against external threats, but what about a multinational body?
The European Union (EU) is looking at implementing new systems and policies to improve the information on individuals crossing the external borders of the EU, particularly the so-called Schengen Border. The aim, as always, is maintaining the security of its citizens.
To achieve this goal, the European Union Entry/Exit System (EES) and the European Travel Information and Authorization System (ETIAS) are being developed and introduced. Both are scheduled for deployment in 2020.
But what are they?
EES – Security on the border
First, let's look at EES.
Designed to complement member state border controls, EES will collect identity and biometric information along with travel documentation details for all non-EU nationals whether they require a visa or not. It will also record the date and location of each traveler's entry point into the EU's Schengen area, replacing the need to stamp passports.
EES will complement existing EU systems, such as the Visa Information System (VIS), which as the name suggests only has information on those travelers that require visas.
ETIAS – Insight before they travel
Second, for ETIAS, this process is slightly different and a little more complex.
On a basic level, it is the EU's version of Australia's Electronic Travel Authorization (ETA) and is intended to provide information on travelers from countries outside the EU, who do not require a visa for visiting, before they arrive at the EU borders. Like ETA, each traveler will need to provide specific information to help identify who they are.
Travelers from countries who do require a visa to visit a Schengen country need not apply. Instead, they will need to acquire a visa per usual and produce it upon arrival.
What does this mean for the EU member states?
Each member state will still be responsible for managing and securing its own borders. What EES and ETIAS provide are additional levels of security, as well as, better management of the borders through:
Improved internal security
Better prevention of illegal immigration
Reduced delays at the border
And provide information on individuals who have overstayed their visa
The new centralized database will allow all member states to quickly access data on all travelers wishing to enter the EU and restrict movements of individuals deemed a security risk. It will also help to alert the authorities to visitors who have overstayed their allotted time due to electronic recording of their arrival.
For it to be effective, there will be a need for the governments of the member states involved to work with the airlines and airports. Allowing for the provision of a seamless journey from the moment a non-EU nationals arrives at their departure airport through to clearing immigration at the arrival airport.
What does this mean for the traveling public?
Simply put, there is the opportunity to streamline the entry process for all eligible non-EU nationals. As they would have been pre-cleared for their arrival, there is an option for them to use the same kiosks as the EU nationals and expedite them through security. Additionally, non-EU nationals will experience less stress as they will be able to check their status and be informed, before departure, if they are allowed entry.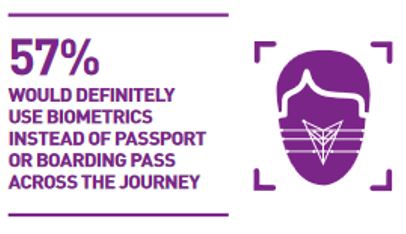 But it also means additional biometric information will need to be collected for every traveler. What we don't know is how this will be done and what impact it will have on the traveler. What we do know, based on the 2017 Passenger Survey, is that a majority of passengers are open to the idea of using their biometrics to expedite their way through the airport. 55% used automated ID control at departure security (x-ray checks), a third at boarding gates and 12% at international arrivals. However despite this enthusiasm for automated ID controls, 33% of passengers have privacy concerns about biometric recognition at airport borders and the proportion is higher among those already using automated ID control.
The benefits of collecting biometric information, which can be easily managed, are multiple from a security and passenger facilitation perspective.
The end result
What EES and ETIAS boils down to is greater security over who is entering the area and how long they are staying, which is no different from what other governments have been putting into place over the years.
Much like the work SITA did with Australia 20 years ago, it is all about exporting the borders to stop the high-risk travelers from even getting to the country. The only difference here is we are talking about multiple member states being involved, rather than just one. If they are able to collaborate and agree on a way forward while engaging with the air travel industry, there's no reason why both EES and ETIAS can't be a success.
For more
Download the SITA ID management white paper: 'Biometrics for better travel'
Like this post?
Get more like it as soon as they are published.
Subscribe