I had the pleasure of speaking at the IATA Global Airport and Passenger Symposium (GAPS) alongside IATA's Andrew Price, and several other industry executives who looked at the challenges and opportunities of RFID. What stands out for me are the valuable data sets that RFID provides, which will help shape the future of baggage services.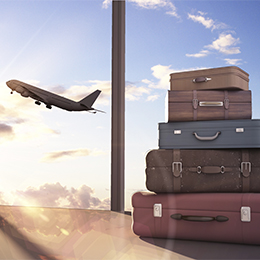 IATA sees RFID (radio frequency identification) as one of the keys to transforming the baggage handling process. SITA worked with IATA back in 2017 on a detailed business case, estimating that RFID could reduce the number of mishandled bags by an extra 25% and could potentially save the air transport industry $3 billion in baggage mishandling costs.
99.98% accurate, a huge improvement
Airlines and airports are now proactively working together to boost their baggage handling efforts as part of IATA's Resolution 753, which requires airlines to "maintain an accurate inventory of baggage by monitoring the acquisition and delivery of baggage". RFID tagging is now 99.98% accurate, according to IATA. Within the next four years most baggage systems will be RFID enabled, which is a huge improvement on barcodes alone.
A better experience for passengers, ground handlers and bags alike!
RFID tags provide a better passenger experience over barcodes in that their improved accuracy can enable more baggage automation. The technology can also allow ground handlers to do much more with their existing workforce. It's particularly advantageous when transferring bags from one flight to another as the read rate is much better. It results in shorter loading times with automatic baggage tracking with the use of handheld terminals, more efficient bag tag reading and improved tracking capabilities.
RFID tags can also improve security and acceleration of bag identification. With barcodes, security agents must manually identify the barcode on the bag. With RFID technology, a reader automatically identifies a bag in a particular location without having to locate each barcode.
While RFID technology on its own can't reduce baggage mishandling, through its accuracy it delivers data to the baggage systems so that ground staff can quickly see if action is needed, which ensures a bag moves smoothly along and completes its journey.
Just think of the data sets and AI
I'm particularly excited about the potential impact of the data sets, as I said at the start. These pave the way for improvements using artificial intelligence (AI). Having ready access to reliable data makes end-to-end baggage visibility a real possibility. Imagine a bag with a consciousness in the digital world: it can inform stakeholders of its status in the baggage journey in real-time. And this is an essential part in the creation of personalized services.
So Resolution 753 really is motivating airlines to move away from traditional scanning bag tag labels and the sticking of tabs on 'bingo cards' (a process we really must upgrade from!). The industry's goal now is to implement digital tracking solutions to cover every single aspect of a bag's journey. Then we can build on that for the future.
Once a baggage transformation strategy is in place, the good news is that deployment can be rapid. Take airline Bahamasair, which managed its baggage transformation at Miami and Nassau airports in inside seven days.
Vitally, end-to-end tracking like this produces trusted data which tells the truth about a bag's journey at every step, revealing pretty much every improvement an airline can make in operational processes, among others.
And, of course, the data sets produced enable airline partners to push notifications to passengers for full visibility of the bag using technologies such as location trackers. This will go a long way to reducing what is one of the most stressful aspects of the passenger journey.
Rich data makes all the difference
Here at SITA we've been collecting data and statistics since 1997. It's thanks to our comprehensive global baggage tracking and baggage reconciliation capabilities that we're able to harvest and analyze baggage statistics and ultimately continue to decrease baggage mishandling.
We collect data from right across the bag's journey, from check-in to arrival, using various formats such as Web services, APIs and XML. This rich data provides a precise picture of the bag's current location, no matter how many airports or airlines are required to handle it. The data can be used to mobilize ground staff and inform passengers of their bags' arrival through mobile apps, for example.
In SITA's 2019 Passenger IT Insights report, we found that the baggage claim process remains a pinch-point in the passenger journey and continues to cause considerable stress and frustration. Yet a quarter of 'digital passengers' who received baggage notifications via a mobile device reported an 8.6% increase in satisfaction. That compared to the less satisfied non-tech savvy passengers who were relying on flight information displays and public announcements in the airport.
The result highlights all too clearly how data has the power to improve the passenger journey and, using business intelligence and analytics, can give immediate insight into baggage handling performance and its cost implications: which is good for both passengers and the industry.
Monetizing trusted data, with advanced personalized services
In the future, trusted services will monetize this data with third parties. Augmented reality and AI will be among the technologies leveraged to give each passenger an individual journey experience with personalized add-ons, such as the booking of hotels and 3D views of rooms.
AI, Machine Learning (ML) and ComputerVision will be the salient technologies featuring prominently in the future of baggage, with accurate data and the use of algorithms to make predictions.
AI can help address other issues that frustrate passengers too. Hong Kong International Airport, for example, has been working with the Chinese University of Hong Kong to make baggage trolley shortages a thing of the past. It created an AI-powered real-time baggage trolley supply system to eliminate the need for manual checking of trolley availability.
Keeping the industry's data safe
Of course, data protection will be critical in retaining passenger trust and loyalty. There are a number of stakeholders involved in collecting baggage data from the passenger to airlines and airports. Third parties may be interested in using this to sell passengers ancillary services, such as hotels. Clearly, secure, strong data distribution rules will be required to provide the transparency needed to achieve this, while keeping data safe.
It's worth saying that SITA has a community role here, already bridging around 60% of the air transport industry's data exchange among airlines, airports, aircraft and border agencies. So, as more tracking and AI technology delivers more and better data, our remit is to ensure the safety, security and effectiveness of that data.
What we'll provide here is a set of rules allowing airlines and airports to identify what data can be shared and who can see it. This involves a trust mechanism to underpin all the capabilities around data sharing.
It will only happen in a spirit of true cooperation
As with the introduction of so many technologies across the industry, RFID doesn't come without its challenges. One of the biggest will be collaboration. To reap maximum benefit, airlines and airports must work together in a spirit of true co-operation around these technologies for effective deployment and service provision. Only through partnership and a focus on benefits for the wider air transport community – and, of course, for passengers – will we reach the goal of a completely visible and connected end-to-end passenger and baggage journey.
For more
Like this post?
Get more like it as soon as they are published.
Subscribe