I'm delighted to see it confirmed that airlines which add tracking at multiple points in the baggage journey are seeing huge improvements in bag delivery globally. This is one of the results of the newly launched 'SITA 2019 Baggage IT Insights' report, which clearly shows the success of bag tracking initiatives.
The report shows that more and more airlines and airports over the past 12 months have started to deploy tracking at key points in the passenger journey – namely check-in, loading onto the aircraft, transfers and arrivals. Their aim is to improve baggage handling and further reduce mishandled baggage numbers.
Real evidence of improvements
We can now see real evidence that when baggage tracking is introduced at check-in and loading onto the aircraft, airlines are recording big improvements. SITA's Baggage IT Insights results show an improvement rate of up to 66% for those embracing tracking, even as passenger numbers rise relentlessly.
Since 2007, passenger numbers have rocketed 76% to reach 4.36 billion in 2018. Despite the pressure this puts on existing air transport infrastructures, total mishandled bags each year have fallen 47% from 46.9 million in 2007 to 24.8 million in 2018. The great result is that the annual bill footed by the industry has shrunk by as much as 43% to $2.4 billion from $4.2 billion in 2007. That level of operational improvement for the industry is extremely significant.
Today's baggage experience for passengers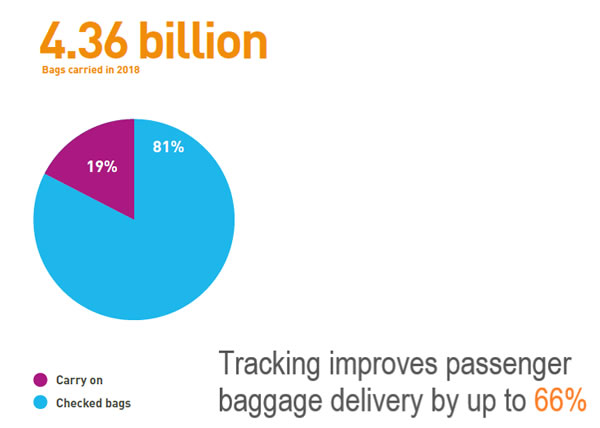 It's clear: smart tech is tackling the issue of mishandled baggage
It's clearly thanks to investments in smart technology, automation and new processes that we're seeing this improvement in baggage delivery, driven most recently of course by IATA's Resolution 753.
As we know, the resolution requires airlines to monitor the acquisition and delivery of bags across three specified areas – aircraft loading, arrivals and transfers. Airlines must share tracking information with their interline journey partners as needed. Industry benefits include a better passenger experience, reduced costs in the tracing, retrieving and delivery of mislaid or delayed luggage and increased baggage handling efficiencies.
Loading is one of the easiest journey stages for an airline to implement tracking and it's central to delivering the benefits of Resolution 753. Many airports now provide common-use baggage reconciliation systems (BRS), for example, which help strengthen airlines' baggage processes and enhance tracking of each baggage item.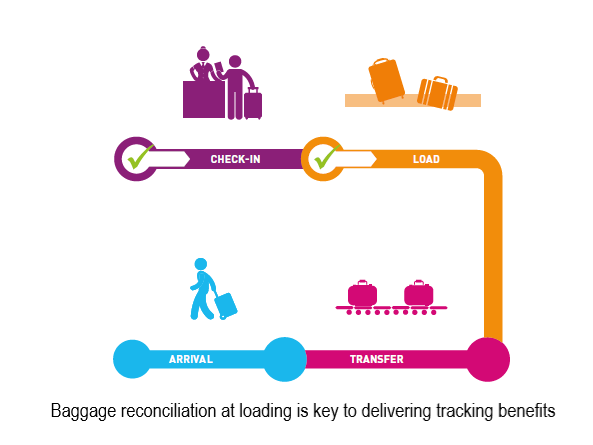 Why do bags get mishandled? The reasons remain unchanged
The breakdown of mishandled baggage for 2018 remained much the same as for the previous year: 77% (that's 19.8 million bags) were mishandled due to delays; 5% (1.18 million) were lost or stolen, and 18% (4.54 million) were damaged or pilfered.
Dealing with potential operational disruption is now a major technology focus for airlines. And it's beginning to have an impact on baggage handling through delayed flights and transfers. Looking ahead a little, predictive analytics capabilities will play a huge role, helping to identify and address disruptions before they occur. This makes for an important use case for artificial intelligence implementation in the air transport industry.
Improved baggage tracking efforts
So the results of SITA's 2019 Baggage IT Insights are extremely encouraging. They show that airports and airlines are now proactively using technology to boost their baggage tracking efforts at multiple touchpoints along the passenger journey. And already, the benefits of their tracking investment is paying off, reducing costs, improving operational efficiencies, smoothing the passenger journey and, with it, enhancing customer satisfaction.
Download the Baggage IT Insights report
Like this post?
Get more like it as soon as they are published.
Subscribe