This year's SITA Passenger IT Insights report shows that technology is undoubtedly giving passengers more control over their journey and improving efficiencies, with a very positive result on satisfaction scores.
Passenger satisfaction – the highs and the lows
One of the stand-out findings of this year's 2019 Passenger IT Insights, co-sponsored by Air Transport World, is that passengers are more satisfied when they're using technology. The contrast in satisfaction between tech-enabled passengers and those relying on face-to-face service is particularly marked at four key points – passport check (3.85%), during dwell time (+5.8%), on board the aircraft (+8.1%), and when collecting luggage at the carousel (+8.6%).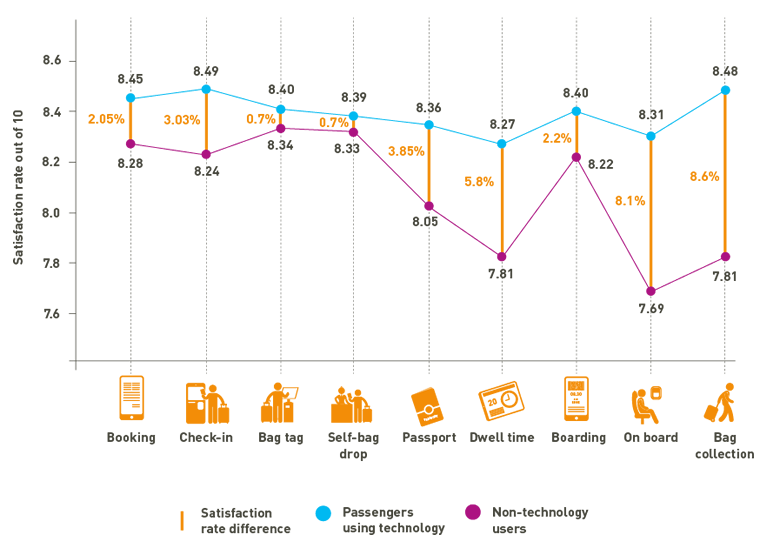 2019 Passenger IT Insights © SITA 2019
In this blog I'll focus on passport and bag collection, and we'll see if technology has an impact on these notorious pinch points?
Technology along the journey
One of the highlights for me, as a researcher and a passenger, was to see that the proportion of passengers sailing through automated passport control has risen from 21% in 2017 to 44% in 2018. Passenger satisfaction was 3.85% higher among those taking advantage of self-scanning gates to verify their ID compared to those using agent assisted controls. 3.85% may seem a small number but in the world of satisfaction surveys that is quite a significant shift.
This is good news for the industry, as it reinforces the point that passengers are ready and willing to use automated gates. And, when that technology is available, passengers not only choose to engage with it, but they also enjoy a smoother passenger flow process and a more pleasant experience.
Willingness to use id management technology
Looking forward, it seems that when it comes to verifying their identity, passengers are ready to use technology even more and in a variety of ways. Secure identity management will be grounded in biometric technology. I believe it's worth pointing out here that passengers can engage with biometric digital ID management technologies at points along the journey only when an airline or airport offers it. Deploying these solutions at certain points in the journey may, for example, be limited by regulatory constraints.
Passengers and their bags
Over the years, booking, check-in and bag drop have increasingly become automated and passengers like it. Yet still baggage remains a pinch point in the passenger journey, particularly at baggage claim where a lack of transparency can add stress to the journey.
The report highlights that access to information on arrival is key to minimizing stress and frustration. During my research I noted that the 26% of the passengers surveyed who had received notifications on their mobile devices, reported 8.6% higher satisfaction compared to non-tech users, who had to rely on flight information display systems (53%) or public audio announcements (34%).
It's quite clear that when it comes to baggage, passengers have clear technology preferences. As many as 95% would welcome the opportunity to receive bag collection notifications via their mobile devices on arrival. And, when passengers use services like real-time notifications, their satisfaction is higher – elevating this stage of the journey to second place for satisfaction just behind check-in.
Passengers want more tech
So our Passenger IT Insights 2019 survey makes clear that the arrival of new technologies has had a positive impact on passenger satisfaction. The appetite of the tech-enabled passenger is still strong, and this presents the airlines and airports with an enormous opportunity. From baggage management, to mobile services and biometric digital identity management, passengers are ready for more technology that will give them a more streamlined, autonomous and seamless passenger journey.
A final word
With insight spanning passenger technology adoption and preferences, satisfaction rates comparing technology enabled to agent assisted processes plus passenger service consumption at the different stages in the journey, I personally believe that the 2019 Passenger IT Insights will help inform and shape some airlines and airport's technology decision-making.
For a full interactive experience, please download to your desktop and use the latest version of Adobe Reader
Download the report
The key findings of the report are based on a survey of passengers from 20 countries across the Americas, Asia, Europe, Middle East and Africa, representing over 70% of global passenger traffic.
Like this post?
Get more like it as soon as they are published.
Subscribe