The vision of a seamless passenger journey is now closer to reality than ever as airlines, airports, border agencies, governments and industry bodies continue to drive initiatives that will bring it about. Trusted global identity management, enabled by biometrics, is the critical enabler.
The question is, how do you establish a scalable and globally-interoperable identity management system for air travel? One where passengers enroll once and then use one digital identity to travel the world to different airports and across borders?
For this to happen, four ingredients are essential: first collaboration among stakeholders is critical, including governments. Airlines essentially check credentials issued and vetted by governments, so it makes sense that governments, airlines and airports must work together to make passenger processing more efficient
Second, we need standards and recommended practices that govern how biometric technology will be integrated into existing airline and airport business processes, infrastructure and business systems.
This point is key – as passengers travel the world they should not need to relearn the airport and airline processes at each new location, which means that biometric processes should look and feel the same wherever they go.
Additionally, with large international airlines operating in dozens of airports, the industry must ensure that existing infrastructure and business systems are compatible with whatever biometric technology is used at each location. Key to this is Common Use technology, which can be extended to support biometric checks, as is the case for SITA Smart Path.
Third, we require a trusted framework for data exchange that will facilitate collaboration among all stakeholders. This data exchange framework will allow airline, airports and governments to share identity data in a secure and verifiable way so that biometric and biographic data captured in one airport can be used in another, while also facilitating the data exchange that must take place between airlines and governments in order to streamline identity checks.
Lastly, there's the need for data to be protected and stringent privacy regulations to be met. All industry stakeholders are obligated to protect the private data of passengers in accordance with national and international regulations, such as the European General Data Protection Regulation (GDPR) and others. Systems that process passenger personal data must be built from the ground up to protect that data – a concept known as 'privacy-by-design'.
Moving forward… today
With these ingredients in place, we'll reach the point where we really do have a seamless journey, using one digital credential integrated with airport, airline and government processes so that it's 'on the way' not 'in the way'. Of course, this will take some time - but the momentum is clearly gathering.
The good news is that within air transport, biometric technology has garnered a great deal of interest. SITA's latest Air Transport Insights report shows that 77% of airports and 71% of airlines are planning major programs or R&D in biometric identity management over the next three years.
The other good news is that airlines, airports and governments can take steps today – many airlines and airports have already started to deploy seamless travel, with the first airport wide implementations already online. Our own initiatives show that real-world systems, built collaboratively, can be delivered now, and scaled up as and when needed.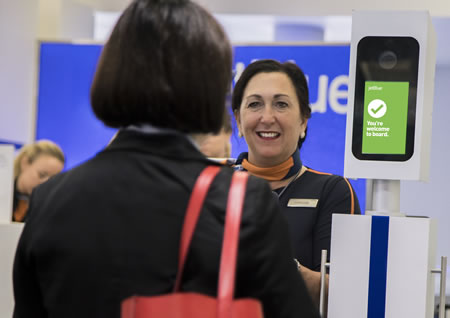 Examples include our award winning identity management projects for JetBlue and Orlando International Airport that use biometric facial recognition as a means of digital identity during the passenger journey. Both allow the passenger to board the aircraft in a single step, just by looking into a camera, but using different approaches.
Orlando has opted for self-service boarding gates, while JetBlue uses the SITA Facepod. This allows JetBlue Crew Members to improve customer service, by getting out from behind the counter to interact directly with travelers as they step up to the camera. JetBlue Crew Members can simultaneously view the live biometric, match result and boarding status on a tablet to assist passengers if they have any issues.
CBP – a formative force
Both examples involve the US Customs and Border Protection (CBP), which is proving to be a formative force in bringing about trusted global identity management.
The effort reflects the US government's long-standing commitment to biometrics for improving border controls, beginning with implementation of biometric entry processes in the early 2000's. In the last 18 months the effort has turned to implementation of biometric exit processes in collaboration with the airlines at boarding, closing a security gap since the US does not operate physical immigration exit controls at airports.
Based on its commitment to innovation and public-private partnerships to solve the exit challenge, CBP built the Traveler Verification Service (TVS), a matching engine using facial biometric technology. The TVS supports the biometric exit of passengers at terminals with the goal of minimizing disruption to flow of travel. CBP pulls together a flight portrait gallery for each flight containing biometric data for each passenger sourced from CBPs existing databases, including the passport and visa databases as well as data captured from arriving foreigners at immigration.
While the TVS is currently used at boarding, it could also help improve passenger services such as self-bag-drop in the near future. Under Transportation Security Administration (TSA) rules, travel documents must now be checked manually at bag-drop, but there is the potential to use the TVS to automate these checks.
The TSA, which operates the security checkpoints, is also getting onboard with its recent biometrics roadmap, offering the possibility to automate the currently manual travel document and boarding passes checks that are done by TSA agents prior to screening.
Orlando is the first airport in the US to commit to processing all arriving and departing international travelers with facial recognition technology using the CBP TVS and working with SITA. In addition to working with GOAA and SITA to advance the biometric exit mandate and transform the traveler experience at Orlando, CBP has trials at a dozen or so other US airports using the same technology.
The drive for standardization and advancement
There is also movement in terms of standardization. IATA's One ID program is developing standards that will govern how biometrics are used across the whole passenger journey. One ID relies on a collaborative approach between stakeholders to work. The World Economic Forum and the World Travel and Tourism Council are also involved, with an eye to how a digital identity system can be used beyond airports to encompass the full travel experience, including car rental and hotels for example. The end goal is to create a global interoperable system that will boost commerce and tourism while addressing security and privacy concerns.
The International Civil Aviation Organization (ICAO) is also actively looking at creating standard digital identity credentials, derived from e-Passports, which can be stored in a secure wallet on a smartphone, for example. This promises a path to a global interoperable system for identity management where the passenger has control of their own data.
Re-thinking ID in the digital age
Smartphones are set to be the key enabler to global interoperable identity credentials and travel processes. Mobile phone subscribers have hit five billion, according to GSMA Intelligence, representing 67 per cent worldwide penetration, meaning that most travelers are carrying one.
SITA Air Transport IT Insights research shows that many mobile app services are becoming universal. Airlines are increasingly implementing mobile apps, for example, such as 'flight discovery' (90% implementation). For airports, services via passengers' smart devices is also on the rise, particularly for 'customer relationship management' which can now be accessed via an app at over half of airports (52%, up from 39% in 2017).
So smartphones are the way to go. But to work securely using biometrics as part of a seamless passenger journey, smartphones will need to advance further – for example in the area of liveness detection. Headway is being made - the Apple iPhone X, for example, offers face matching using infrared to build a three-dimensional map of the face, preventing the use of a photograph to fool the face matching technology. While not yet perfect, such technology will eventually prevent identity fraud when using smart phones.
Eventually, as our lives move increasingly online, the use of biometrics on our smartphone will be the way we identify ourselves whenever we access online services - whether that be for travel, banking, healthcare or a myriad of other services. The good news is that this puts control in the hands of passengers, who will be able to disclose as much or as little personal information as is required to prove who they are, under their control.
The Sovrin Foundation, a private sector international non-profit mission, of which SITA is a founding steward, is exploring this concept, which is known as self-sovereign identity. SITA has worked with airline and government customers to demonstrate the technology in a lab environment, with the next step expected to be a live test on a flight between two international airports.
Act today, keep it simple and scale up
Momentum is gathering. Collaboration and smart technology are creating the foundations of a seamless passenger journey. But as an industry we must focus on standardization to ensure interoperability and compatibility with existing airline and airport infrastructure and business systems.
We can now say with confidence that biometric technology is mature and capable of automating airport processes. Performance has improved dramatically in recent years, with a number of vendors offering algorithms that operate with up to 99% accuracy in normal airport conditions. It is no longer about the technology – the key success factor is how compatible the technology is with the airline and airport environment, especially considering that large international airports host dozens of airlines, each with their own business processes, systems and applications.
Orlando International Airport (MCO) is the first airport to fully deploy US Customs and Border Protection agency's Biometric Entry and Exit Program. SITA worked with GOAA, British Airways and CBP to incorporate the U.S. biometric departure check for British Airways' customers. The trial's success has prompted airport-wide implementation of the technology. The system makes passenger boarding quicker and easier, while it also incorporates the new, secure biometric exit checks. British Airways is boarding flights of almost 240 customers in around 15 minutes.
View the video
Lufthansa is the first airline to replace boarding passes for cameras on flights from Miami. Passengers departing from Miami International Airport to Munich on Lufthansa flight 461 can now board with the quick click of a camera instead of a boarding pass and passport, thanks to the airport's launch of biometric exit technology last week. The facial recognition verification process takes less than two seconds with a 99-percent matching rate, according to CBP. MIA expects to launch biometric boarding with additional airlines this year.
Learn more
Like this post?
Get more like it as soon as they are published.
Subscribe