A major focus area for SITA's innovation is baggage tracking, and in particular enabling the air transport community to meet the requirements of IATA Resolution 753. The resolution mandates airlines to track bags across several key points from initial check-in to arrival.
SITA responded rapidly to the resolution by launching a joint research program across SITA Lab and SITA Air Travel Solutions, with the objective of enabling airlines and airports to comply both quickly and cost effectively. The research program includes the continued investigation and introduction of new bag tracking technologies. So where are we one year on?
SITA research shows 'the race is on'
According to SITA's recently launched 'Air Transport IT Insights 2018' the race is now on to embrace the technology to deliver smart end-to-end bag tracking. The research says that given IATA's Resolution 753, 68% of airlines plan to implement real-time bag tracking information for passengers by 2021.
It shows that airlines are communicating more about missing baggage information via mobile devices – helped by their efforts to comply with the resolution. The research also highlights that 60% of airlines plan to implement information services via mobile apps to passengers for missing baggage and baggage location status updates.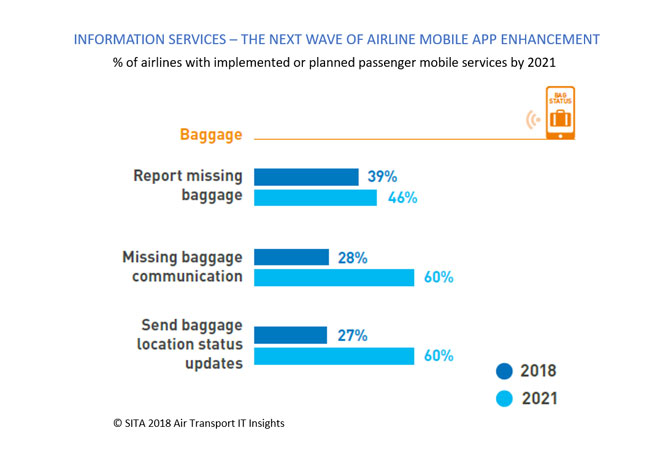 Airlines and airports embracing tracking
It's pleasing to see that progress has been strong, with many airline and airport successes. Those who've worked with SITA to meet the resolution include Aeroflot, Alitalia, Air India, Bahamasair, Delta Air Lines, Etihad Airways, Airports Authority of India, Istanbul New Airport, Kotoka International Airport, TAP Air Portugal and Qatar Airways, among others.
Bag Tracking 'ready-to-go'
SITA's aim is to help airlines and airports scale up tracking capabilities without the need of massive capital investment.
We are achieving this by building on our baggage data delivery services and their unique global coverage to develop a solution that gives a precise picture of a bag's location, based on harnessing 3.9 billion baggage information messages a year across 250 airports, for 550 airlines. With a focus on keeping costs down SITA's BagJourney offers a core platform that includes data collection free of charge and the ability to quickly integrate the solution into existing infrastructure using Application Program Interfaces (APIs).
Despite major improvements in baggage mishandling cited in SITA's 2018 Baggage Report, there's considerable scope for further improvement and cost savings in end-to-end bag tracking.
Tracking to home or hotel?
SITA continues to investigate new bag tracking capabilities. One new development, WorldTracer Baggage Delivery Service®, provides the ability to track a bag from its final destination airport through to the passenger's hotel or home, giving full visibility to the airline and ultimately to the passenger.
This means that passengers, whose expectations are fueled by consumer experiences, will be able to track their mishandled baggage just like they would an Amazon parcel – making for a more reassuring experience.
In the meantime, airlines and couriers get full tracing and compliance with IATA's Resolution 753, along with savings in time and costs, a far more streamlined process. Soon to be available, WorldTracer Baggage Delivery Service® is sewing up that last piece in the chain of a mishandled bag.
I like to think of this new service as being the last piece of the bag tracking jigsaw. The benefits are three-fold. For passengers, as outlined, there's more information on status and delivery plans, both reliably and in real-time. For airlines, there are full tracing capabilities and compliance with IATA's Resolution 753 plus the ability to undertake performance analysis against couriers' SLAs. That's on top of cost savings and services that could help enhance brand reputation. For couriers, there are cost savings due to removing paperwork, manual scheduling and invoice creation. And with the ability of drivers to contact passengers through the app and passengers to track delivery, this will lead to a reduction in missed deliveries.
Exploring the potential
Collaboration is key in our baggage innovation. With customer airlines and airports, we are exploring applications for operational data all the time. The possibilities include disruption management, providing mishandling information to crew while in-flight, and the proration and validation of mishandling charges.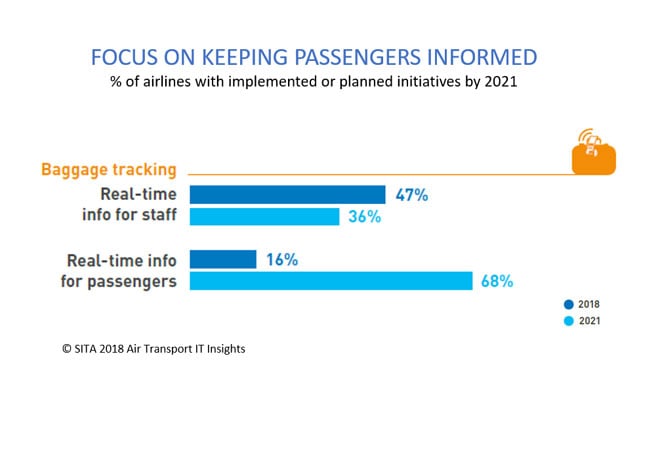 Then there's the promise of Artificial Intelligence (AI). See 'Intelligent Tracking: A Baggage Management Revolution'. This is expected to revolutionize the management of baggage over the next decade, making mishandled bags an increasingly rare event for passengers globally.
There have been some great developments in baggage management in 2018, and there's an expectation that there will be a lot more to come.
Like this post?
Get more like it as soon as they are published.
Subscribe