On the face of it, taking a bag from a passenger at check-in and returning it to them at their destination seems like a very easy task. But think hard about it and there's so much more going on behind the scenes:
• Identifying the bag and its flight
• Moving the bag through security
• Storing the bag until the flight is ready to be loaded
• Sorting the bag in the system to the correct loading location
• Ensuring the bag is on the right flight
• Ensuring that the passenger and bag are on the same flight in certain jurisdictions
The more legs, the more 'risk'
And it's not always just a matter of point-to-point flights. Every one of the above steps must be repeated for as many legs as the passenger flies. Then at the end of the journey the bag must be unloaded and placed on the right baggage reclaim carousel.
A better record, but the challenge remains
Sounds simple in theory. And indeed we've seen baggage operation performance rise dramatically over the last few years. SITA's WorldTracer® data shows that even with soaring passenger numbers (64% rise between 2007 to 2017), the mishandling rate per thousand of passengers fell by 70.5%.
On top of that, there's been a 46.2% cut in the annual cost of baggage mishandling to the industry. This is laudable. Yet the cost to the industry in 2017 still represented US$2.3 billion, so the mishandling of bags clearly remains a challenge.
2007 - 2017 long term trends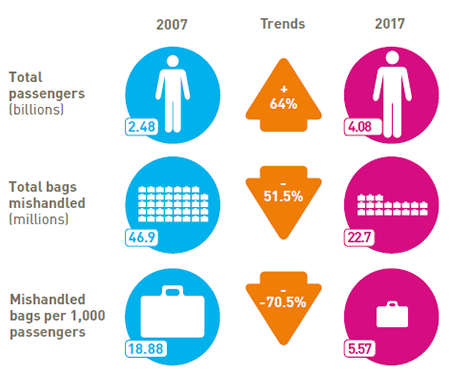 Source: SITA Baggage Report
Today's baggage systems missort only 1 in 10,000 bags, but …
Today, the vast majority of bags are checked and tracked using bar code technology generated messages. Baggage handling systems do a fantastic job of reading these bar codes and matching it to the information for the bag, allowing it to be processed. In fact, a well designed baggage system will missort only 1 bag in 10,000.
… other airport processes drive up the mishandling rate
However, the overall baggage mishandling rate is around 5.57 bags per 1000 passengers flown i.e. almost 60 times higher! This difference in mishandling is not linked with the baggage system itself, but with the rest of the airport processes. And it is this as an industry that we need to address.
Enter RFID – a technology moving up the aviation CIO agenda
RFID looks to be a technology that could help. Already a proven technology in aviation, it's used in the tracking of high-value aircraft parts and components, for example, as well as items such as ramp equipment and ULDs. Some airlines have already introduced RFID bag tracking.
Delta Air Lines was one of the first to turn to the technology, initially introducing the technology across 84 airports in the US, catching the industry and the average passenger's attention. Anything that can tangibly reduce the number of mishandled bags is in everyone's interest. In February 2018 , Delta Air Lines rolled out RFID baggage tags to checked luggage on its routes between the USA and London Heathrow. Scanners use radio waves to capture highly accurate and consistent data stored on the RFID chip. This followed the introduction of RFID in its domestic market in 2016. Delta has invested more than US$50 million to ensure the accurate routing and loading of the 180 million bags it handles each year. The airline noted that this commitment to reliability has been recognized with Delta recording the lowest mishandled bag numbers in US Department for Transportation data six times in recent months.
All of Delta's 344 airports across the globe are scheduled to receive the technology, with additional European hubs, Amsterdam and Paris, due to come online in the coming months.
Airports recognize the benefits too. An IATA and ACI survey of airports drew responses from airports through which more than 2 billion passengers travel. The survey found that 70% of these airports are already considering RFID implementation.
Introducing RFID as a technology for baggage tracking, has some distinct advantages. It uses radio frequency electromagnetic fields to transfer data to automatically identify and track tags attached to bags. The technology allows multiple identification and tracking tasks to be undertaken without human intervention. It has read rates that are currently unrivaled and with this can drive automation and with automation you can reduce staff injuries, and provide baggage tracking compliance without human intervention.
Comparison between technologies

(1) Singulation: Ability to read a tag without interfering with a tag nearby
Compatibility with other systems, and a $3 billion ROI
Importantly, RFID is compatible with existing barcode technology, reconciliation systems and tracking systems. With high reading performance and relatively low infrastructure costs (Capex), RFID adoption could easily provide a positive return, both in terms of cost and passenger satisfaction. The IATA business case for RFID estimates a return on investment of over $3 billion to the industry over the next seven years.
Looking ahead
Baggage operations across the air transport industry are evolving dramatically, thanks to Resolution 753 and IATA's and ACI World's shared strategy to drive improvements. But improvements in baggage handling performance will accelerate greatly with adoption of new scanning technologies and RFID.
London is calling
If you are planning to attend PTE 2019 in London, and would like to discuss the benefits of RFID and the latest bag tracking technology you can join me on the SITA booth.
You may also want to read the Intelligent Tracking white paper or view the BagJourney video.
Like this post?
Get more like it as soon as they are published.
Subscribe