You will have seen the 'rebels' quietly marching and softly singing to draw attention to it, and the upwelling of young people crying out for it. You will have heard about the countries pledging to achieve it by 2050 and the financial leaders making significant investment decisions based on it. But what is it?
Carbon neutrality is "not nirvana nor an alternative universe" says former head of the UN Framework Convention on Climate Change (UNFCCC), Christiana Figueres. Conversely, she says, it's going to become so standardized that we'll look at anything that is not carbon neutral and go "where the hell did that monster come from?"
Essential best practice
And as the world warms to unprecedented levels due to rising carbon emissions impacting human health, supply chains, migration patterns, biodiversity loss, water scarcity, forest fires, floods, droughts and more, carbon neutrality is becoming essential.
The CarbonNeutral Protocol, which we launched in 2002 and have updated annually to keep in line with best practice, is the leading global framework for carbon neutrality. It states that carbon neutrality is achieved by calculating a carbon footprint and reducing it to zero through a combination of in-house efficiency measures, renewable energy and external emission reduction projects.
Carbon neutrality is about making real, measurable reductions in emissions. In fact, the Protocol states that "for all subjects, the client should action a GHG (Greenhouse Gas) abatement plan to deliver internal emission reductions" – meaning that companies should reduce their own emissions as much as they can, as well as offset, in order to reach carbon neutrality.
It's also about optimism – that we can and we will minimize and alleviate climate change impacts to create a better, sustainable, net zero future that benefits us all. According to climate activist Greta Thunberg, "Hope comes from action, so if you don't want to feel terrified or worried or scared, then the only thing you can do is take action because that is the only medicine."
The good thing about carbon neutrality
…is that businesses don't have to wait until 2050 to achieve it. Companies like SITA, Sky, and Microsoft are taking climate action now. Reaching carbon neutrality enables companies to make a clear statement to their customers, investors, employees (young people, rebels, and others alike) about their commitment to reducing emissions both now and long into the future. And they're reaping the benefits.
The great thing about carbon neutrality
…is that it focuses corporate climate strategies on a clear vision which mobilizes the business and builds capacity for further climate action. It puts a price on carbon, which incentivizes internal reductions.
In fact, more and more companies, including SITA, are choosing to set higher internal carbon prices for greater impact. Our 2019 research into the Fortune Global 500 showed that companies with a carbon neutral commitment are four times more likely to have a Science Based Target (focused on internal reductions in line with what's required by science) and six times more likely to be an RE100 signatory* (committed to 100% renewable energy) than companies without a carbon neutral commitment.
The wonderful thing about carbon neutrality
…is that the benefits go far beyond emission reductions. Internal efficiency measures will only get you so far, so external offsets – or carbon credits – are needed in order to reach carbon neutrality. These are produced by emission reduction projects (also called carbon finance projects).
Take the Meru and Nanyuki Community Reforestation project in Kenya, for example. By supporting this project, SITA is offsetting its unavoidable emissions from business travel, but is also funding a project that empowers farmers, enables women to become leaders, encourages farmer-to-farmer learning, promotes conservation farming, enhances biodiversity, and increases household income to improve the lives of farmers, their families and local communities.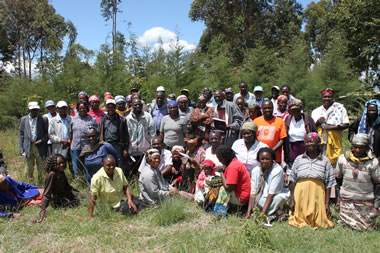 SITA is supporting the Meru and Nanyuki Community Reforestation project in Kenya, empowering farmers, giving female farmers leadership opportunities, promoting conservation farming, and improving the lives of their families and local communities.
Each carbon credit purchased from the project represents one ton of emissions reduced – in this case by planting trees and keeping them standing. Figueres calls such natural climate solutions the "Cinderella" of climate mitigation, "because we haven't paid as much attention to them." But companies are starting to pay attention to them – because trees are like magic climate action machines that cost-effectively reduce carbon and can build themselves, at scale. Not to mention the multiple UN Sustainable Development Goals (SDGs) they contribute to.
So, in this way, offsetting is a way of delivering finance to areas of the world that are least responsible but most impacted by climate change, while improving people's lives and local biodiversity along the way. What's not to love?
Robust reductions and credible carbon credits
Natural Capital Partners has worked with more than 400 carbon finance projects like this one – other projects reduce emissions through renewable energy, or improved cookstoves which reduce the need for wood and therefore deforestation, or resource recovery that captures and converts harmful gases for other uses. Each must prove that the reductions are permanent, additional to what would have occurred without the sale of carbon credits, and have not already been claimed by another organization (no double counting).
They all adhere to industry standards and undergo regular monitoring and verification by an independent third party. This reassures companies buying carbon credits that the emissions reductions happened, they are real, and of the highest quality.
We're not stopping there
Some climate leading companies like SITA support carbon finance projects as part of their offsetting program, but also choose to support additional sustainable development projects for further impact.
SITA is supporting a mangrove rehabilitation project – also in Kenya, which will help protect the coastline and bring back fish and other important wildlife to the area. SITA's funding will contribute to further climate action – after all, mangroves can store four times more carbon than a rainforest.
With the planet continuing to warm, we need to throw everything we've got at climate action right now. Offsets are just one tool in the tool box and play an important role in helping us reach the global goal of reduced emissions and keeping warming to 1.5 degrees. The planet doesn't care where emissions reductions happen – but we know they must happen.
Companies are seeing the value not only in reducing their emissions internally, but in being able to make a clear statement of their commitment to climate impact and action right now. And companies like SITA are not stopping there.
Learn more about SITA's environmental action.
*RE100 is the global corporate renewable energy initiative bringing together hundreds of large and ambitious businesses committed to 100% renewable electricity.
About Natural Capital Partners
With more than 300 clients in 34 countries, including Microsoft, MetLife, Logitech, PwC, Sky, Ørsted and SITA, Natural Capital Partners is harnessing the power of business to create a more sustainable world. Through a global network of projects, the company delivers the highest quality solutions which make real change possible: reducing carbon emissions, generating renewable energy, building resilience in supply chains, conserving and restoring forests and biodiversity, and improving health and livelihoods.
About SITA's Planet+ climate action program
Planet+ is SITA's program to become carbon neutral by 2022, reducing emissions not only from business travel and energy, but also from shipping, waste, data centers, and electricity transmission and distribution. The program also sets an internal carbon price, with offsets positively impacting the UN Sustainable Development Goal of Climate Action.
To achieve carbon neutral status, SITA is working with Natural Capital Partners and follows The CarbonNeutral Protocol which requires rigorous and independent assessment of seven different greenhouse gas emissions, coupled with an offset-inclusive emissions reduction program.
Like this post?
Get more like it as soon as they are published.
Subscribe