August 12th marks the United Nations International Youth Day. With its theme of 'Transforming Education', the focus of the UN International Youth Day is on making education more inclusive and accessible for youth of all ages and backgrounds. It's a theme that reminds me of a popular quote:
It's all about giving every child the opportunity to learn, while igniting their curiosity and appetite for education in subjects they find genuinely exciting and life-changing. At a time when 24 million children are out of school, this focus is vital if we're going to bring about a real transformation.
Giving teachers the skills to make the difference
The SITA Air Transport Community (ATC) Foundation was established in 2014, with the aim of providing access to ICT and education to young people in Africa. Since then, through working with schools across Africa, it has positively impacted over 83,000 young people in Ethiopia, Uganda, South Africa, Zambia and Zimbabwe – through projects delivered with our charity partners. The Foundation is a key part of SITA's Corporate Social Responsibility strategy, which is committed to a range of business, environmental, social and educational programs.
Having visited some of the schools we support, it's clear to me that their teachers are fundamental to bringing about the transformation needed. Simply put, well equipped, trained and motivated teachers have the ability to inspire their students. It's also critical that their teaching prepares today's youth for the fourth industrial revolution – while contributing to the UN Sustainable Development Goal of Quality Education.
SITA's ATC Foundation programs are designed to be sustainable both locally and long-term. We ensure that teachers receive ICT training through the International Computer Driving Licence (ICDL) program, so they not only gain essential new skills but also earn a qualification that's recognized internationally.
Some examples of our work with educators include teacher training in Zambia and Zimbabwe, and we've made sure each school has all the ICT equipment needed to share their knowledge.
In Ethiopia, with our 'eClasses' project, we took a different approach, as our projects are more widely spread across the region. Here we funded ICDL training for eight members of the Amhara Bureau of Education, creating qualified ICT learning leaders ready to train teachers to consistent and internationally recognized standards. They're starting with the 25 schools where our Foundation created ICT labs.
In Uganda, our focus has been on ensuring computer studies teachers gain the 'top-up' skills to care for and maintain their ICT equipment, and on encouraging these teachers to share their skills with peers so that the whole school administration benefits.
ICDL certification demands hard work and sacrifice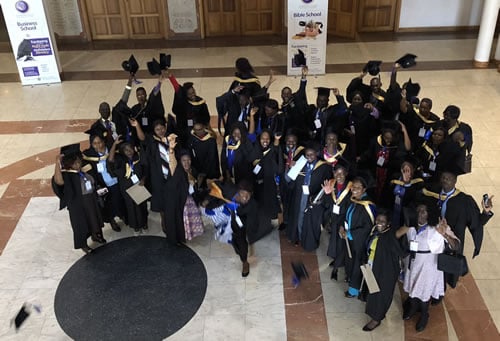 ICDL training is rigorous. It requires that teachers give up their personal time and weekends to attend classes, and it demands high marks to achieve certification. To date, I've attended several graduation ceremonies to recognize the successes of around 60 teachers. These are always occasions to celebrate, particularly as for many teachers this is their first return to professional learning for some time. Each ceremony recognizes the individual efforts and commitments of these extraordinary teachers to further the prospects of their students.

Higher quality education
For me, the magic is in meeting with these teachers to learn how they've adapted their new-found skills and knowledge to their personal teaching styles. It's about how they're embracing technology in their teaching. In many schools a science lab is an unattainable luxury, but with their ICT training and equipment, teachers are now using projectors and YouTube to demonstrate scientific experiments. Past lessons would have been more static, with teachers using a black and white textbook or chalkboard.
Transformative teachers: the 'champions of change'
It's obvious to me that those schools with an ICT champion – someone who's extremely passionate and knowledgeable or who takes initiative and is happy to lead in the area of digital integration – have produced the best outcomes. From what I've witnessed, some of these ICT champions have clearly gone above and beyond.
There are many rewarding stories. One of them is about the Maths & ICT teacher at Bayuni Secondary School, who's been at the school for three years. He started using computers outside of school in an internet cafe. He enjoyed using them so much that in order to receive computer training he agreed to sacrifice his pay for two months. With increased exposure, his knowledge grew. He showed great excitement at the prospect of having computers at Bayuni and became one of the top performers in the ICDL assessments.
Another story is that of the ICT & Art teacher at Ndeke Secondary School, who has taught there for 20 years. He started using computers in 2002 to improve his design skills, teaching himself many components of Microsoft Office. In 2014, with only 1 computer at the school, he introduced Computer Studies. Today, he's digitized every one of his lesson plans and proclaims that there is "No use of the chalkboard anymore." He passed all five ICDL modules with an average mark of 89%.
Exponential teaching
Teaching doesn't stop at the teachers. The learners themselves are taking their new ICT knowledge and sharing it with fellow school friends and peers in their broader community.
We're lucky that SITA's partners – PEAS and ComputerAid – share our commitment to ensuring teachers get ICT training. It's the best way to make sure the programs have a long-lasting impact, while improving computer skills at schools.
As I said at the start, it really is about 'the lighting of a fire' to igniting aspirations and bring real change for the future. We salute all the teachers, mentors and learners across the globe who work each day to transform education for our future generations. Their dedication will make achieving the United Nations Global Goal of Quality Education by 2030 a reality.
For more
Learn more about SITA Air Transport Foundation and follow our work on LinkedIn.
Like this post?
Get more like it as soon as they are published.
Subscribe