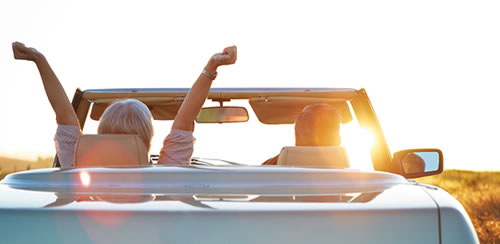 In a few weeks' time, I'll be watching teams of coders and developers fight it out in the Digital Sky Challenge – a 48-hour sprint to create new digital technologies to help meet the future needs of European aviation. The event, the first of its kind, is run by Airports Council International and SESAR JU1 and held at Athens Airport. SITA is a partner in the challenge, providing the data through Application Programming Interfaces (APIs) and prizes for the winners.
We need to harness data at every touchpoint
I'm sure there will be some brilliant – and maybe even crazy – ideas about how to use data to reinvent industry processes. Because, of course, air transport is hooked on information. It can't function without it. That was as true in the early days as it is now. But with passenger numbers doubling and increasing digitization, data touches every point of the passenger journey, from the time they book a ticket to the time they walk out of the arrival airport – including all aspects of airport, ground and flight operations. The issue is how to manage and interpret the data and use it to everyone's benefit.
Trust and collaboration are key to progress
The challenge is that multiple other actors need to be involved to keep the whole circus moving. And air transport companies have historically been no different from other organizations in harboring their own data and showing a reluctance to share.
Trust and ownership of data remain major issues. Hence the silos that have been condemned for decades, but that can still be found across all parts of the community. Standards are also critical. Accuracy will vary, timeliness will vary, depth and breadth of data will vary. Without commonly agreed standards and formats, data can be compromised.
The air transport community can handle massive increases in the number of travelers and the number of aircraft flying, but only so long as we collaborate more intensively to achieve greater operational efficiencies, break down those silos and achieve the seamless journey. Which includes the need for more and better exchange of data.
Handling huge amounts of data through APIs
Air transport data has been in SITA's DNA since our inception. This is a long-standing pedigree – and today we bridge as much as 60% of the air transport industry's data exchange. As well as airline, airport and government systems, this also now involves unlocking and handling huge amounts of data through APIs.
Critical to success is our unique responsibility as the neutral, trusted community player who can be depended on to safeguard the rights and interests of data producers and generators in the distribution of that data for the benefit of all.
APIs: a community resource, at developer.aero
One of the key milestones in leveraging the power of data was the introduction of developer.aero in 2012, enabling the industry's first community access to APIs. This gave air transport and third party developers – as well as SITA's own in-house developers – ready access to a wealth of data and processes, enabling innovation in new apps, services and business applications for the benefit of the global air transport community.
Today there are 10 APIs available, generating 180-plus million transactions a year and spawning numerous applications and solutions across all airline and airport operations.
Some APIs have been used to produce passenger-focused apps, including airport maps, wayfinding, transfer transport details, parking, weather, city traffic conditions, and more.
Other API-based apps dive into the data to provide specific intelligence for airlines and airports – such as turnaround statistics, passenger loads, baggage counts, nationality statistics and PNR totals. And others have been developed for operational purposes – such as gate changes, stand and gate allocations, border control, and passenger flows.
Increasing role of air transport-specific APIs
A wide range of new APIs will be added to developer.aero in the months ahead, along with sample code, case studies, data registries, and other services that will help software developers build new apps fast and efficiently.
Current work includes an enhancement to the existing FlightInfo/FLIFO API (which provides information and status for flights worldwide), and a new API dealing with passenger location. We're also working on a number of industry-specific APIs relating to the passenger journey. More news as it becomes available!
These developments will provide a trusted framework enabling data sharing and accelerating adoption, allowing the industry to access consumer trusted, quality data easily from multiple sources at the right time in the right format to the right stakeholder.
So no pressure on the guys in Athens but massive opportunities ahead. Good luck!
For more
1The Single European Sky ATM Research Joint Undertaking project, founded by the European Union and Eurocontrol
Like this post?
Get more like it as soon as they are published.
Subscribe