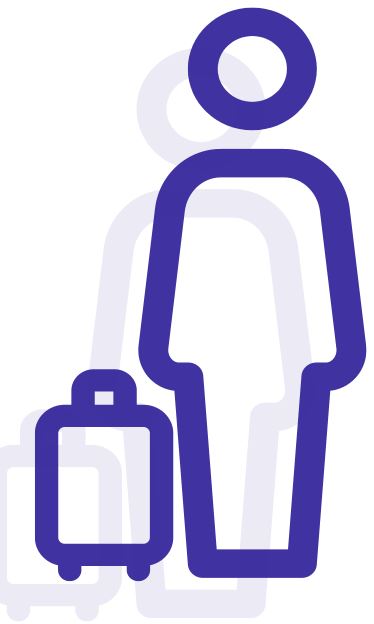 "SITA's approach to serving the community in its hour of need includes portfolio developments enabling customers to be agile in their response to the pandemic, to tackle the issues that now hamper travel."
"SITA set out clear guidance for the entire air transport community on the IT investments required to address the most pressing pandemic challenges, be it for airlines, airports, aircraft operations or border management."
"I commend SITA for the important role played in providing IT to help bring about a return to the skies, and to position airlines, airports, border agencies and other industry stakeholders for a post-pandemic digital future."
"SITA is well positioned as the industry embraces automated, touchless travel – with the capabilities to support customers in ramping-up in an agile way."
The air transport IT market: a slow but sure recovery
In last year's Activity Report I commented on the dramatic disruption to air travel in 2020 caused by the pandemic. But I also cited evidence of the green shoots of a recovery in air travel. In 2021, that recovery saw Global Air Traffic landing at 64% of the pre-COVID capacity recorded for 2019, up 18% on 2020's traffic, according to SITA's operational figures. Passenger and flight volumes increased across most regions, despite uncertainties due to new variants and new waves.
The Americas and China, for example, all demonstrated a promising comeback in late 2021, and in large markets such as these, domestic air travel continues to lead the industry's recovery. Even so, late last year the International Air Transport Association (IATA) downgraded its air traffic forecasts for the coming years, citing expected total airline industry losses between 2020 and 2022 of US$201 billion. But IATA, like many industry bodies and experts, does anticipate a return to pre-COVID air travel in the 2023-2024 timeframe.
However, at the time of writing, the impact of the events in Ukraine on the recovery in travel have yet to be evaluated, along with its financial implications for the industry. SITA set up a dedicated Crisis Management Team to manage and monitor the situation for the company, as reported in the Economic Performance and Consolidated Financials, available separately to this Activity Report.
What is clear, is that the signs of recovery in 2021 are a base on which to build for 2022 and beyond. The entire air transport community remains sharply focused on the reopening of our industry. In the words of Luis Felipe de Oliveira, Director General of ACI World (Airports Council International) this "brings a renewed optimism that air travel could see an uptick in 2022," as the industry moves closer to recovery.
Equally clear is that digital initiatives remain a top strategic business priority in aviation, meaning that technology, and SITA, are playing a key part in shaping the industry's digital future. I say this with conviction, based not only on industry research – including SITA's own 'Air Transport IT Insights' – but also based on the experience of SITA's Board and Council as representatives of the industry.
Added to that, SITA's experiences with its customers during the pandemic show that the industry is heading towards new horizons, as airlines, airports and other stakeholders strive to digitalize their travel processes.
Serving the community, to help the return to the skies
Throughout the pandemic, SITA has proven to be an industry partner, providing solutions to serve the community in its efforts to return to the skies. During 2021, SITA's response remained robust, centered on the new IT needs of an air transport community in crisis, and on acceleration of the industry's digitalization in response to COVID-19.
The Board fully endorsed and approved SITA's approach to serving the community in its hour of need. This includes portfolio developments enabling SITA members and the wider community to be agile in their response to the pandemic, to tackle the issues that now hamper travel, such as health verifications, and to support customers in creating a seamless and safe journey.
In a seminal paper last year, 'Runway to success', SITA set out clear guidance for the entire air transport community on the IT investments required to address the most pressing pandemic challenges, be it for airlines, airports, aircraft operations or border management.
The initiative was backed with urgent and focused efforts to develop SITA's portfolio in key areas for the benefit of the industry. A prime example included the temporary offer to the air transport community of a free Digital Travel Declaration service, to help get air travel moving again, keeping it safe and healthy. In addition to health requirements, SITA continued developments to deliver an automated, self-service, mobile-enabled and touchless experience, to instill confidence among passengers, making travel as easy and convenient as possible.
Those efforts include further developments and innovations to drive more collaboration, greater efficiencies and cost-effectiveness, as well as more sustainability across both airport and aircraft operations. Importantly, they also increasingly include solutions to support small and regional airports, for example, as well as low cost carriers. Whether for Bag Manager Lite, SITA Flex or others, SITA's aim is to serve the community, making solutions affordable and easy to adopt to help the recovery.
On behalf of the Board, I commend SITA, its management and its global teams for the important role they played during 2021 in providing IT to help bring about a return to the skies, and to position airlines, airports, border agencies and other industry stakeholders for a post-pandemic digital future. See the 'CEO Report' and 'Business Review' for more.
Ensuring SITA's resilience and relevance
It is important to acknowledge that portfolio developments like these – and the skills and talent needed to create them – help to keep SITA resilient, as well as relevant to the air transport community, as the industry emerges into an increasingly digitalized operating environment.
The SITA Board plays a fundamental role in approving SITA's portfolio direction and innovations. As such we recognize that SITA's developments align with latest industry IT trends and research, including the findings of SITA's 'Air Transport Insights' survey conducted during 2021.
The results show the COVID-19 crisis shifting IT spend to automation, digital health and sustainability. The overwhelming majority of airlines and airports, for example, plan to invest the same or more in digitalization and sustainability in the next three years, as key priorities.
That includes more investments in self-service, biometrics, and touchless technologies – such as digital identification, unassisted bag drop, automated boarding gates, biometric-only gates, and other such IT.
SITA is well positioned as the industry embraces automated, touchless travel – with the capabilities to support customers in ramping-up in an agile way, to navigate heavier processes, and to put into place a seamless passenger journey.
The 'CEO Report' and 'Business Review' go into more detail but let me highlight four examples. First, SITA successfully introduced a range of health solutions in 2021 to automate and integrate multiple disparate health certificate schemes in the industry, helped by working collaboratively with organizations such as the Australian Government, airlines, and airports.
Second, and as testament to SITA's leading role in the industry's digital transformation, 2021 saw a dramatic increase in the take up of SITA's capabilities in creating a journey driven by biometrics and digital identity management, self-service and passenger mobile devices, both on and off the airport. Airports right across the globe are now using SITA Smart Path, for example, from Asia Pacific and the Middle East, to Europe and the Americas. See 'Business Review'.
Third, SITA gained ground in the year with its cloud and API-based platform, SITA Flex. This is a significant advancement for the travel industry, as it offers the ability to reimagine the journey, using new apps to create a safer, fully-mobile, touchless passenger experience at every stage.
Bahrain International Airport is a great example of using SITA services to address the new digital demands of travel, while at San Francisco International Airport, SITA's cloud and API platform gives airlines the opportunity to offer passengers a touchless mobile-enabled journey.
And fourth, with the acquisition in the year of its subsidiary CHAMP Cargosystems, SITA positioned itself strongly in air cargo. This is a promising area for growth, as IATA 2021 data shows a demand increase in air cargo of 6.9% compared to 2019 pre-COVID-19 levels and 18.7% versus 2020.
So the SITA Board, and the SITA Council, were proud to continue to be involved in the development and direction of SITA's portfolio in 2021.
Of course, maintaining a strong portfolio requires constant investment in SITA's skills and people, with initiatives to retain and nurture talent. This has been uppermost on SITA's agenda throughout the pandemic. Technology skills remain a scarcity in the air transport community, so having SITA as an organization comprised of advanced skills and expertise is of great value to our community.
As the 'Business Review' shows, in 2021 SITA kept a sharp eye on skills development and acquisition, including the bringing on board of over 50 software engineers, test engineers, UX designers, scrum masters and product owners in SITA's Letterkenny office (Ireland) – to ramp up airport portfolio developments.
Another area with close Board involvement is IT security, again to build SITA's resilience and capabilities. As noted in last year's report, SITA became a victim of a highly sophisticated cyber-attack in early 2021, leading to a data security incident involving certain passenger data stored on SITA Passenger Service System servers. After confirmation of the incident's seriousness, SITA acted swiftly and initiated targeted containment measures.
The SITA Board initiated an independent review and has remained actively involved during the year. Due to the incident's significance, a Special General Assembly was held on 22 February 2022 to present gained insights, the overall learnings, and agreed-on actions to members.
To oversee the incident investigation, we formed the Cyber Security Committee (CSC), consisting of IT experts from the SITA Board itself. The CSC is now a standing committee of the Board and will, as a key priority, oversee the full implementation of SITA's enhanced Enterprise Security Improvement Program (ESIP+) and report to the Board on a regular basis.
The program's 38 actions across 24 projects tackle different areas of security enhancement, including security enhancements to portfolio and technology lifecycles, further response positioning for new emerging security threats, and continued implementation of security best practices to further enhance SITA's security posture.
SITA's future: growth, innovation and new horizons
Of course, SITA's resilience and relevance are driven by its long-term strategy. To that end, the Board continued to work hard with SITA's management throughout 2021 to help plan for and steer SITA's future directions. That includes review and approval of SITA's direction for next three years and beyond, as articulated in SITA's Three Year Business Plan 2022-2024, and its Long-Term Business Strategy.
At the heart of this plan and strategy is the ambition to grow SITA in the face of the pandemic's challenges, embracing new horizons as the company evolves. Let me highlight four areas where SITA is doing this.
First, SITA's portfolio development and innovations are vital to shaping the industry's future passenger journey and operations, through advances in self-service, biometrics, digital identity, cloud, artificial intelligence (AI), and more. It is exciting to see the continued focus of SITA's innovations on reducing air transport industry costs, overcoming operational hurdles, and improving the passenger experience.
This promising and pioneering work is necessary for SITA to explore new horizons, from AI for predicting and managing On-Time-Performance, and Computer Vision for reducing baggage mishandling; to pioneering blockchain initiatives such as Electronic Pilot Licenses in collaboration with ICAO, as well as the use of blockchain to track aircraft asset movements securely and digitally.
Such innovation is critical for the air transport community. History suggests that companies who invest in innovation through a crisis outperform their peers – both during the crisis and in the recovery, by up to 30%, according to leading industry consultants. SITA's continued innovation investments will benefit both SITA and its members and customers.
Second, we see other growth areas coming from SITA's new focus on the wider travel industry. Railway stations and terminals, cruise hubs and ports, as well as major global sporting and religious events, all have requirements in common with the aviation industry, such as processing passengers and bags safely and efficiently, managing operations, predicting and managing disruptions, and more.
Many of SITA's airport, border and aircraft IT capabilities are ideally suited to these markets. Already we are seeing exciting developments, agreements and discussions taking place as SITA explores the possibilities of the emerging intermodal travel environment.
Third, SITA has adopted a leading role in supporting the air transport industry's targets to reduce carbon emissions from its operations. The industry remains under great pressure to become more sustainable. SITA's 2021 acquisition of Safety Line is a strong display of commitment to optimizing flight paths and reducing fuel burn. The acquisition complements SITA eWas solution for fuel-efficient flights, by avoiding severe weather, as part of SITA's Digital Day of Operations portfolio to improve on-time performance, turnaround, safety and sustainability while reducing costs, for example for fuel.
Airport sustainability is a promising new growth area for SITA. The strategic partnership with Envision Digital in 2021 will bring to bear the full power of AI and the Internet of Things to optimize airport operations in the endeavor to achieve net-zero carbon targets. See the 'CEO Report' and SITA's 'CSR Report 2021' for more.
And fourth, a part of SITA's organizational transformation program included SITA's multi-year SimplySITA program, in which the Board has played a major role. Let me explain more.
SimplySITA – a simpler, stronger, and sustainable SITA
A major objective of SITA's Long-Term Business Strategy is to build a sustainable SITA: an organization that remains relevant to the future of aviation. This is a driving force of SimplySITA, as a crucial strategic evolution for the company, and the next step-change in its 70 year-long history.
SITA has always taken the necessary steps to evolve, adapting its structure and governance for the benefit of members, to ensure it could meet future requirements. One such step was the move in SITA's early years from shared aviation telecommunications to both infrastructure and IT services that span the entire journey.
There were others along the way, such as in 1989 with the expansion of membership to airport authorities, aerospace manufacturers, airfreight forwarders, computer reservations systems, tour operators, and other air transport-related organizations. At the end of the 90s, we saw the creation of a commercial group for SITA, including SITA's application-led business. And in 2006, we saw the coming together of SITA's commercial and cooperative business under a hybrid structure.
These were significant moments in SITA's history, as the company took actions to remain relevant, and to be at the forefront of transforming technologies to improve the way our industry works.
So SimplySITA is the next step forward for SITA – as a fully commercial business with its activities run in a single and more robust business structure, with a greater ability to respond to the needs of a market where network and IT technologies are converging.
This is articulated in SITA's Long-Term Business Strategy, first agreed and approved by the SITA Board, and then approved by the SITA Council in September 2017. Importantly, SITA will remain fully-owned by the air transport industry, continuing to focus on collaboration to meet the requirements of our community.
The SITA Board and Council approved the implementation of SimplySITA in 2020. To give the final green light to the program, at the General Assembly in October 2021, SITA SC shareholders approved revisions to SITA's Articles of Association, its SITA Financial Manual, and SITA's Revenue and Funding Rules.
The revisions also reflected changes to SITA's governance, driven by two other factors. First, the new Belgian corporate legal framework introduced in 2020, which impacts the role of the Board and Council. And second, further governance changes coming from a SITA Board and Council governance review, complemented by input from shareholder representatives.
The new Council Charter, which was also approved at the General Assembly in October 2021, sets out the new role and ways of working for the Council resulting from the governance review recommendations and Belgian law changes. See the 'Council President's statement'.
In short, 2021 prepared the ground for an exciting new chapter in SITA's story, as a critical step towards achieving a simpler, stronger and sustainable SITA.
Thank you
Before I close, let me express the Board's gratitude to Barbara Dalibard for an outstanding job as the CEO of SITA for the last five years. The Board recognizes Barbara's excellent achievements at SITA during some challenging years, none more so than the last two years of the pandemic.
Under her stewardship, SITA has been successfully undergoing a long-term transformation as a company, as part of its objective to continue on a path of consistent revenue growth. On behalf of the Board I commend Barbara's vision, drive and determination, which have ensured consistently strong performance for SITA in recent years.
To consider and recommend the replacement for SITA's CEO the Board formed a committee, which included the Council President, to make the decision. Clearly, this is one of the most key decisions for the Board to make.
So let me also welcome SITA's new CEO, David Lavorel, who takes the helm at an exciting juncture as SITA embarks on new horizons as a fully commercial company. The Board wishes David every success in taking SITA on the next steps of its journey.
Finally, I would like to thank SITA's Board Directors, the Council and SITA's senior team for their insights and leadership in 2021, another exceptional year for our industry.
I am once again impressed by all of the teams across SITA as they rose to the challenges of enabling our industry's recovery and a return to the skies. Their commitment and efforts will remain critical during 2022, and the Board commends these efforts.
With SITA's people at the helm, and with the role SITA is playing as a partner in the industry's recovery, I believe we can look forward to 2022 and beyond with optimism.