SITA's workplace is all about diversity: many different countries and cultures are represented in our workforce, and colleagues who've been working here for decades collaborate with those just out of college and early in their careers.
That's one of the things that makes me proud to work at SITA. Every day, I get the chance to interact with a vibrant mix of people. And I think, because of the truly global nature of our organization, and that of the air transport industry, diversity is simply part of working at SITA. It is ingrained in our culture. To be successful here, you truly need to embrace diversity and inclusion.
Our competitive advantage
As an organization, we cover 95% of all international air travel destinations, and work with over 2,800 air transport and government customers in every corner of the globe.
Our 4,700 employees are geographically dispersed spanning 126 countries. We represent 140 nationalities and speak over 60 languages. Our multi-cultural executive team is located on four continents, rather than just our European headquarters, and it is representative of our business, customers and the industry.
The diversity of perspectives and ideas that we have is a real competitive advantage for SITA. It allows us to work hand-in-hand with global and local customers alike, delivering innovative solutions to support their needs. Our closeness to customer communities played a big part in helping us design and deploy touchless solutions at speed during the pandemic.
From diversity to inclusion
Understanding, measuring and supporting diversity has been an area of focus for several years now. It is a regular topic in our organization, from talent forums to board committees, and we have put in place processes and programs to improve representation and fairness.
Some areas have progressed significantly. In a male-dominated industry, SITA appointed Barbara Dalibard as its first ever female CEO in 2016 followed by the appointment of Diana Einterz, as President of our Americas division in 2018. Our Board of Directors is now composed of 30% women and, across our organization, the presence of women in leadership and technology roles has seen a double-digit growth.
Seeing improvement in the representation of minority groups is necessary and always very satisfying. Yet we also knew it was only part of the story. Representation data helps you understand the make-up and balance of your workforce but what about how people feel?
At an individual level, does everyone at SITA experience a supportive and inclusive workplace that allows them to thrive and contribute their best? Do people feel they belong here?
We knew we had to explore this dimension and in 2019 decided to ask all our employees some thought-provoking questions: Do you think it is safe to share your views and disagree? Does your manager welcome different ideas and perspectives? Does SITA's culture genuinely support and value diversity?
The response was strong. This year, we had an improved favorable score of 84% in response to these questions. This score is higher than the market norm for technology companies, and at par with the best performing organizations worldwide.
We take huge pride in these results. But of course, we didn't achieve them overnight. They are rooted in our company's rich history, the diversity of our people and the ongoing commitment at SITA to nurture an environment that welcomes everyone.
Our journey continues
In addition to our current diversity and inclusion programs, we want to increase focus over the next year on talent diversity, particularly relating to talent acquisition: targeting representation in candidate pools which reflect local market/country benchmarks and creating balanced interview panels focused on proactively seeking the best mix of talent and perspectives for our teams.
Many organizations aim to be diverse and inclusive. And many organizations can declare themselves inclusive or diverse. But really, that is only the case if you are willing to listen to everybody's view. Taking the reality of our employees' experience and blending it with tangible data has helped us gain a much deeper and meaningful understanding of where we stand and how we can further improve SITA's culture of inclusion.
"Diversity is who we are. Inclusion is what we do." Harris Welcher, Alison Louise, 2019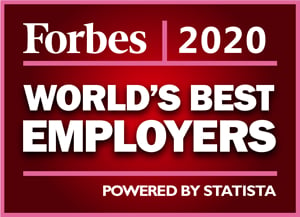 SITA is proud to have been ranked 24th out of 750 multinational companies in Forbes' 2020 list of the World's Best Employers. The independent survey asked employees to assess employers' image, economic footprint, talent development, gender equality, and social responsibility, as well as Covid-19 responses.
Like this post?
Get more like it as soon as they are published.
Subscribe